Recent surveys show that much more FX trading is occurring from web connected and mobile devices. The statistics speak for themselves: 1 in every 5 people in the world own a smartphone, and 1 in every 17 own a tablet*. To stay ahead of the curve, you need to offer your traders the convenience of trading FX on the go.
There is no shortage of Web MT4 solutions out there, but which one will deliver the best value to your business under the most reasonable conditions?
For the brokers, the following items are of utmost importance when choosing Web MT4 provider:

Priority #1: Stability
Clients' trading volume is the life bloodstream of the company and using Web mt4 clients need to be able to trade on the go anywhere, anytime without any service interruptions.
Priority #2: Scalability
Web MT4 solution needs to scale as your business grows as no company wants to become a victim of its own success.
Priority #3: Depth of Market
Brokers that are ​ ECN or full STP need to be completely transparent and bridge MT4 gaps by showing full market depth to clients via Web Trader.
Priority #4: Ease of use
Platform usability is extremely important and user-centered design is what drives trading volume.
Here are the top 7 reasons you should consider the Fortex Cloud Based Web MT4:
1. Product is HTML5-based and is easily deployed as an MT4-side plugin.
It is important to note that this solution is an HTML5 based streaming application as opposed to a static based application which is based on request and response (most web applications are built that way). Our application is 100% streaming.
2. Speed
Platform is quick and responsive. It is also streaming application as opposed to static based that are prevailing in web app marketplace.
Real-Time Quotes, News, Account History, Journal are accessible in a real-time.
3. Depth of Market
Pre-trade transparency with Depth of Market available for all instruments. Fortex Web MT4 is the ONLY solution in the marketplace that offers this!
4. Quick deployment
Fast and seamless deployment within days by our expert team in Silicon Valley.
5. Usability
Easy to navigate intuitive user interface. Sleek and professional design that can be customized to match your brand's look and feel.
​6. Democratic Pricing
You pay only on volume processed by the Web Trader.
7. ​Multifunctional
Fortex Web MT4 can work on all major web browsers and a plethora of devices, including mobiles and tablets, eliminating the need for costly mobile applications.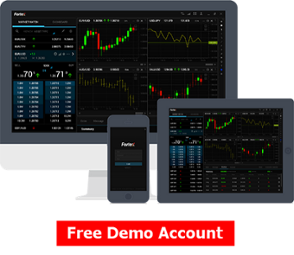 *http://www.businessinsider.com/smartphone-and-tablet-penetration-2013-10