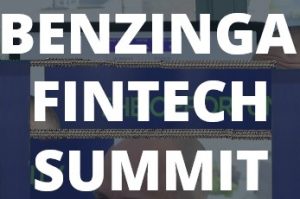 The inaugural Benzinga FinTech Summit in San Francisco on September 28th was a whirlwind event for the international FinTech industry. Attendees had the chance to learn about and experience the newest A.I., machine learning, deep learning, and blockchain tools being used to automate and revolutionize the industry.
Takeaways from the event:
1. Don't Talk, Do
Keep moving and changing

Experiment frequently and take ideas into production—all while cycling quickly as the pace of change accelerates due to ever-changing technology
2. Big Data: Today, everyone has data. What separates companies and gives them an edge is being able to sift through all the data and understand what is important in order to make it useable and presentable for end users
3. Cyber Security: It is critical for FinTech companies to be proactive about security measures
While preventing cyber attacks is clearly ideal, the possibility of breaches must not be taken lightly. All companies need to use enterprise switching

With regard to customers, a very high transparency is key as it provides better peace of mind. 
If you hire Sapphire security operations centre, they will do all of these things for you without being as expensive. Plus, you will not have to worry about any new threats as the provider will take care of that.
4. Build vs. Partner: With so many companies in the FinTech space, the decision of building your own platforms or software versus partnering with companies who already have a tool you need is an important consideration
While building gives you more control and customization, it is much more time consuming and making continuous improvements is difficult, yet key in the ever-changing tech environment

Partnering with a specialized service provider give you less control, but it frees you to focus and continuously improve your own core offerings
5. Disruption vs. Collaboration: Leaders of the sector agree that this is a false dichotomy. Instead, disrupters should want to collaborate with incumbents who already have the infrastructure and relationships–while they provide the innovation