by Jason Young, Executive VP and Head of Deliverable FX at Fortex Inc., with contribution from our Stanford Intern Francis Choi
The Bank for International Settlements (BIS) recently released its Triennial Central Bank Survey, the latest edition in a series of published reports dating back to 1986.
FX swaps remained the most widely traded instrument in the world, with average daily volumes rising to $2.4T in April, 2016—a 6.4% increase since April, 2013. This growth was offset by a decline in spot market trading which averaged $1.7T in daily turnover throughout the surveyed period. Overall, notional FX volumes worldwide dipped from $5.4T in 2013 to $5.1T in 2016.
Nevertheless, it is crucial to note the effects of the relative strength of the US dollar in estimating global FX volume as non-USD transactions are converted to dollar denominations in the final BIS calculation. To illustrate: the WSJ Dollar Index tracks the USD against a currency basket weighted according to trading volumes measured in the BIS FX Triennial survey. Between April 2013 and April 2016, the USD gained 15% against the BIS basket.

Source: http://quotes.wsj.com/index/XX/CALCULATED/BUXX/advanced-chart
After accounting for fluctuations in the value of the USD between 2013 – 2016, we observe that this year's FX turnover of $5.1T actually represents a moderate growth of 4% from a dollar-normalized sum of $4.9T since 2013. For the best accounting service to your business go through infinitaccounting.com/.
The survey issued by the "bank for central banks" also identified changes in turnover by counterparty, most notably an increase in FX trading by inter-dealers and institutional investors, alongside a decrease in hedge fund volume. This shift suggests a higher level of uncertainty in the market with respect to regulation, FX rigging cases, and central bank involvement in the FX space (most recently in the removal of the Swiss franc peg and the devaluation in the Chinese Yuan in 2015).
While FX volume growth have slowed in real terms since the 2010 – 2013 survey, the market exhibits resilience despite a challenging trading environment characterized by regulation creep in the OTC space and as attitudes in credit and counterparty risk attitudes skew towards one of aversion.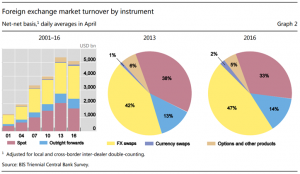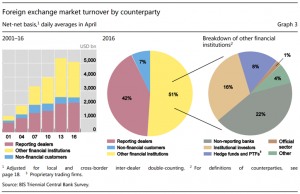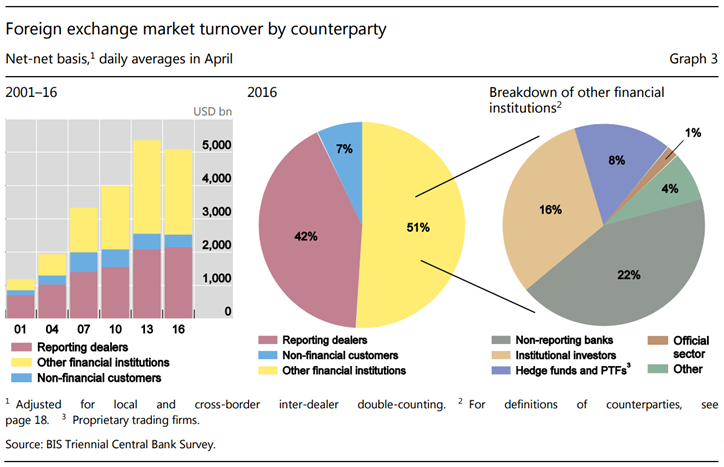 Highlights from the BIS report Triennial Central Bank Survey Foreign exchange turnover in April 2016:
• FX trading averaged $5.1 trillion per day in April 2016, down from $5.4 trillion in April 2013
• For first time since 2001, spot turnover declined, falling to $1.7 trillion per day in April 2016 from $2.0 trillion in 2013.
• In contrast, the turnover of FX swaps rose further, reaching $2.4 trillion per day in April 2016
• The US dollar remained the dominant vehicle currency, being on one side of 88% of all trades in April 2016
• The euro, yen and Australian dollar all lost market share, while the Renminbi doubled its share to 4% to become the world's eighth most actively traded currency
• Trading between reporting dealers grew, accounting for 42% of turnover in April 2016, compared with 39% in April 2013
• In April 2016, sales desks in five countries – UK, US, SG, HK, and JP – intermediated 77% of FX trading, up from 75% in April 2013 and 71% in April 2010
Full Press Release from BIS: https://www.bis.org/press/p160901a.htm
BIS Statistics: http://www.bis.org/publ/rpfx16.htm
For further discussion, contact Jason Young at [email protected], +1 650 549 7351.