DeFi, or decentralized finance, is the use of blockchain technology and smart contracts to build a transparent and open financial system. Replacing traditional trust based on people or third-party institutions with a decentralized protocol.
It is a type of finance built on the blockchain that does not rely on financial institutions such as brokers, exchanges or banks to provide financial instruments, but uses smart contracts on the blockchain (e.g. Ethereum) to conduct financial activities.
CeFi, or Centralized Finance, is the way most cryptocurrencies are currently traded and exchanged.
Within centralized finance, crypto investors will trade on a centralized exchange (CEX), where their cryptocurrency is stored in 'hot wallets' by the exchange themselves. They do not have complete ownership of their crypto assets.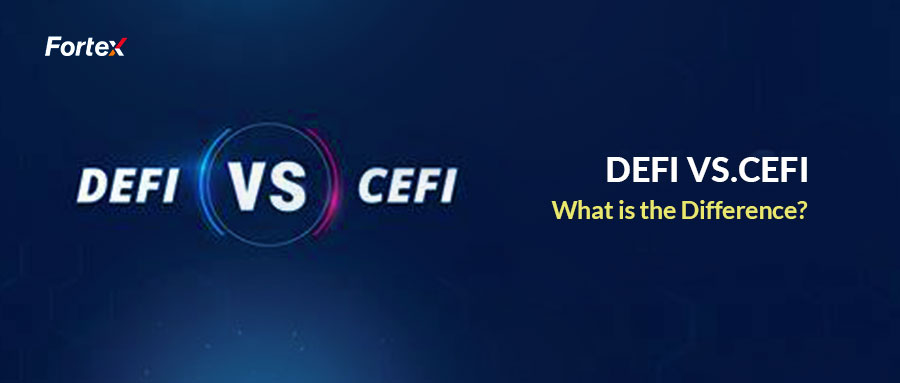 What are the Main Differences?
The system is regulated in case of CeFi whereas exactly the opposite is the case with DeFi.
In CeFi, the responsibility of safeguarding the money of the users is with the exchanges. In Defi, the users are responsible for managing their own funds and activities.
In CeFi, it is possible to prevent trade and impose limitations on users, while the users are themselves responsible for managing their own funds and activities.
There are security risks such as exchange exit and asset loss in CeFi, and there are no security risks in this regard in DeFi.
What are the Application Areas?
DeFi: decentralized exchange(DEX), lending, derivatives, oracle, etc.
CeFi: centralized exchange(CEX), lending, margin trading, etc.
What are the Main Applications?
In both CeFi and DeFi models, exchanges are currently the main application through which users can trade digital currencies, perpetual contracts, spots, futures and other crypto assets.
Decentralized Exchange(DEX): Uniswap, MDEX, JustSwap, SushiSwap, Bancor Network, etc.
Centralized Exchange(CEX): OKCoin, OKX, Huobi, etc.
Fortex Crypto Asset Solutions
Fortex provides services for institutional clients:
1. global liquidity of high-quality crypto assets and other multi-asset liquidity
Supports over 500 global financial giants
including money center banks, non-bank liquidity providers, ECN networks, exchanges, quantitative hedge funds, liquidity providers, crypto exchanges, and other companies.
It covers the top 8 global digital currency exchanges, including OKCoin, OKX, Huobi, Binance, Coinbase, Kraken, BitStamp, etc.
Traditional assets: stocks, futures, FX, metals, energy, commodities, etc.
Crypto assets: digital currencies, perpetual contracts, spot, etc.
2. the best crypto asset and multi-asset e-trading solutions
XForce trading platform is our flagship product. It's built for banks, electronic market makers, liquidity providers, exchanges, FX/CFD online brokers, fund managers, and professional traders.
It packs multiple trading GUI, liquidity aggregation, order and risk management, MT4/5 bridges, FIX API, reporting, backoffice, CRM, hosting, and in one valued SaaS offering.
Learn more at: https://www.fortex.com/en/news/
Please Leave your message to https://www.fortex.com/en/contact/
About Fortex
Founded in 1997, Fortex Technologies aims to revolutionize trading with its powerful, neutral, multi-asset trading platform focused on the FX, equities, and crypto markets. Fortex's XForce solution, ECN, MT4/5 bridges, infrastructure hosting, and more are used by regional banks, hedge funds, asset managers, broker-dealers, and professional traders around the world to enhance liquidity access, improve execution workflows and support sophisticated trading strategies.