The Dow Jones Industrial Average gained 550.99 points, or 1.86%, to close at 30,185.82. The S&P 500 jumped 2.65% to 3,677.95. The tech heavy Nasdaq Composite surged 3.43% for its best day since July, finishing at 10,675.80.
Japanese stocks rose, led by gains in tech stocks. USD/JPY was at 148.87, compared with 148.71 as of Monday's Tokyo stock market close. The Nikkei Stock Average was up 1.4% at 27152.92.
South Korea's benchmark Kospi rose 1.0% to 2242.69 in early trade.
The benchmark Philippine Stock Exchange index (PSEi) went up by 158.31 points or 2.65% to close at 6,128.64 on Tuesday, while the broader all shares gained 54.88 points or 1.71% to finish at 3,253.51.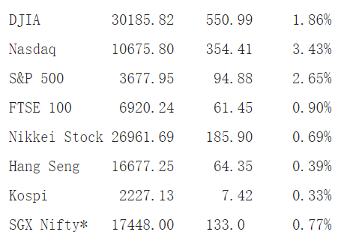 GLOBAL MARKETS
In the face of constant fluctuations in the global stock market, our multi-asset e-trading solutions assist institutional clients to seize the moment to enhance returns and reduce risk.
Fortex builds an open and collaborative liquidity network that connects and configures liquidity from over 500 global trading venues, including banks, LPs, brokers, asset management firms, hedge funds, etc. Fortex's clients will enjoy liquidity from major players at a lower cost, and more robust and real-time market date.
Banks: Bank of America, BNP Paribas, Citi Bank and many more.
Exchanges: NASDAQ, NYSE, HKEX, SHFE and many more.
Crypto Exchanges: OKCoin, OKEx, Huobi, Binance, FTX, Coinbase, Kraken, Bitstamp and many more.
Non-bank LPs: IBKR, LMAX, Advanced Markets, CFH, IS Prime, Tier1FX, etc.
XForce is a multi-asset platform that seamlessly supports over 10000+ Stocks, Futures, FX, Metals, Energy, Commodities, Cryptocurrency products from exchanges and over-the-counter markets with spot, futures, swaps, CFDs and other derivatives.
Fortex XForce multi-asset trading platform packs liquidity aggregation, order and risk management, MT4/5 Bridges, FIX API, hosting, and multiple trading GUI in one valued SaaS offering.
Fortex global clients enjoy XFroce's rich features in management in Fortex 5 Desktop Terminal, Fortex WebTrader, Fortex MobileTrader(iOS & Android), Fortex APIs, FIX, WebSocket, and RESTFul.
Learn more:https://www.fortex.com/en/news
Please Leave your message to https://www.fortex.com/en/contact/
About Fortex
Founded in 1997, Fortex Technologies aims to revolutionize trading with its powerful, neutral, multi-asset trading platform focused on the FX, equities, and crypto markets. Fortex's XForce solution, ECN, MT4/5 bridges, infrastructure hosting and more are used by regional banks, hedge funds, asset managers, broker dealers and professional traders around the world to enhance liquidity access, improve execution workflows and support sophisticated trading strategies.