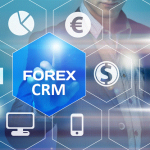 With the increase of the number of foreign exchange brokers, competition within the industry is exceedingly fierce. What's a forex broker to do to rise above the fray? Having great customer relationships is a key differentiating factor for forex brokers, and thus a robust customer relationship management system is essential to achieve prominence in this crowded field. Without a CRM, how do you collect and analyze data, gather and convert leads into customers, and keep track of customers all along the sales lifecycle?
What is a CRM system?
Customer relationship management (CRM) is a computer system that manages a company's interaction with potential and current customers. It stores data on customers and their history with your company. Enterprises such as brokers use this data to improve business relationships, specifically focusing on customer satisfaction and retention that will ultimately drive profitability and sales growth. This review of Cryptohopper explains how to use the platform properly.
A win for small businesses in this year's budget sees the retention of the $20,000 instant asset write-off for another 12 months until 30 June 2019. Of note, a limit will be imposed on the amount of cash payments made to a business. Owning a small business can become a hassle if you are just starting, that's why it is recommended to hire a business advisory agency for help. Also, a change to the R&D tax incentives, as well as deferrals to some Division 7A changes. Should You Apply for Installment Loans ? Learn more. Here https://taxfyle.com/blog/calculate-student-loan-interest-deduction/ you will get more details about student loan interest deduction. Getting your business known by the public is a bit hard if you don´t know what you are doing, if you need help promoting your company then contact this digital agency for professional help.
$20,000 instant asset write-off extended
The availability of the small business $20,000 instant asset write-off has been extended for a further 12 months to 30 June 2019. This concession was previously due to expire on June 30, 2018. You can also learn more from this Trusted regulated forex brokers in UAE.
Foreign exchange CRM systems have unique features that are specific to the industry. The foreign exchange CRM system is generally divided into three parts:
Customer system: managing lead and customer information and accounts
IB system: managing a network of Introducing Brokers, often combined with a broker rebate system
Back office system: brokers' management of customers and IBs.
Benefits of an FX CRM:
Retains as many potential customers for the company as possible
Through a CRM system, you can distinguish the leads and customers who have been served, those who need follow up, and those who have yet to be contacted. You get a snapshot of whom to reach out to and when, thus it prevents losing potential and existing customers due to improper attention or management.
Records customer information and service history
The CRM stores information for each customer: status, demographics, needs, intention—any actionable information for your business. All this facilitates customer service and the follow up of future services, cross-selling, upselling, etc.
Understands customer intentions, analyzes preferences, and improves products and services
The CRM system provides brokers with objective reports of customers, enabling a better analysis of customers' behaviors and preferences. You get real, actionable data that can then be incorporated into better products and services—ones that speak to your direct audience.
Ensures the uniqueness of customer information and streamlines customized services
Duplicated or unneeded customer information can be easily removed. Additionally, before contact to a client is made, the broker has a repository of information about the client so s/he can view the history, current wants and needs, last contact, etc. This valuable information will guide the broker to provide individualized services to the client in question.
Enables information sharing across the enterprise, and avoids customer data losses due to personnel changes
The process of collecting, screening, tracking, and maintaining customer information is recorded and permanently stored by the system. An administrator can assign access based on job role or user, so each sees what s/he needs to see to perform their job. The system also makes it easy to re-assign customers when personnel changes so there is no loss of data, and the customers can continue to be served.
Helps keep the management team up to date with business progress
Managers can view business reports, sales records, business analysis and other data at any time, simplifying their management and sales oversight.
Shares knowledge among personnel, improving the qualities of sales reps
Brokers can share information in the "back office" of the system, so that colleagues can learn and find information at any time to improve their business skills.
What can the CRM system bring to FX brokers?
Improve lead management
A CRM system is an efficient place to store all customer leads. Whether a lead comes from your website, personal contact, partner, tradeshow, email campaign, or any other channel, it flows into the CRM and builds a repository of potential customers for the broker. Sales reps can load and track their leads, and also check if a lead has an existing relationship with the broker. What's more, some CRMs allow you to email leads for follow up, or synchronize with your email and phone system to capture and track all sales activities for each lead.
Improve customer profitability
When brokers use CRM software, one of the first things that becomes clear is the profitability of each customer. Not only does it track revenue per customer, but it can also track how much time and resources are spent per customer. Thus, the CRM can guide resources to the more highly profitable customers, who generate more profits for the broker. Brokers can also use the CRM system to encourage customers to place more orders in a variety of ways, and also attract more traders to participate in the market.
Improve customer satisfaction
Improving customer satisfaction is the direct purpose of using a CRM. When a broker has a better idea of what its potential and existing clients want, what kinds of interactions they've had with them, and when and how to follow up, customer satisfaction improves. And, when your customers are happier, they place more orders and profitability improves.
The CRM enables the broker to improve customer satisfaction across the customer's lifecycle, from the time the lead comes in to closing the sale, placing an order, deposit and withdrawal, and through to after-sale service.
Improve customer loyalty
However, high customer satisfaction does not necessarily mean high loyalty. Brokers must continue to pursue customer loyalty, and a robust CRM from Salesforce can help. Brokers can use their CRM to connect with customers based on their stored information. For example, the CRM can track sales activities, so reps know who needs to be contacted next. Another example is the CRM can send personalized greetings automatically on customers' birthdays. And perhaps most importantly, it holds a history of each client's interactions, so the enterprise's left hand knows what the right hand is doing, which inspires client loyalty more than anything.
Stand out in the FX Industry
In today's competitive FX landscape, Fortex believes that brokers can differentiate themselves with a robust CRM system, one that meets investors' demands for profit support and trading services. Similarly, we believe that cutting edge trading technology is essential to stand out in the industry. Technology is at the core of the Fortex platform, supporting trades, credit, liquidity, risk management, reporting and more. Launched in 1997, Fortex maintains its technology leadership through continuous innovation and by consistently adding new capabilities to help its clients succeed—from the latest processing, intelligent routing, execution technologies, middleware, APIs, and a rich array of trading consultation, analysis, and customization services to elegant end-user applications for desktop, web, or mobile trading. Learn more by contacting the Fortex team at [email protected].