Fortex Brings Success to Financial Giants
Fortex XForce e-trading platform brings success to financial institutions.
Fortex leads the industry with its innovation and technology. We are proud to have created a well-renowned e-trading ecosystem.
We partner with financial institutions from stringently regulated jurisdictions such as the United States, the United Kingdom, Australia, Hong Kong, Taiwan, Cyprus, Malta and many more.
Financial institutions have chosen Fortex XForce for the following reasons:
1. E-trading Focused, Efficient and Stable
We provide a premium, efficient and stable global network, connecting to global financial enterprises in a fast manner and low-latency interconnection to global financial enterprises.
Fortex was founded on Wall Street and brought success to many licensed financial institutions worldwide. We have served their system innovations, technological innovation and risk management, and accompanied them in their growth. This is why we have led the industry with innovation, practical experience, technology, service, and brand influence.
2. Advanced Backoffice
We help broker-dealers with a range of middle and back office management functions, including:
CRM and KYC Module
IB Portal
Fund Manager PAMM
Reporting
Liquidity Sourcing and Distribution
Clearing and Settlement Technology
Quote Maker
Risk & Order Management
MT4/5 Bridging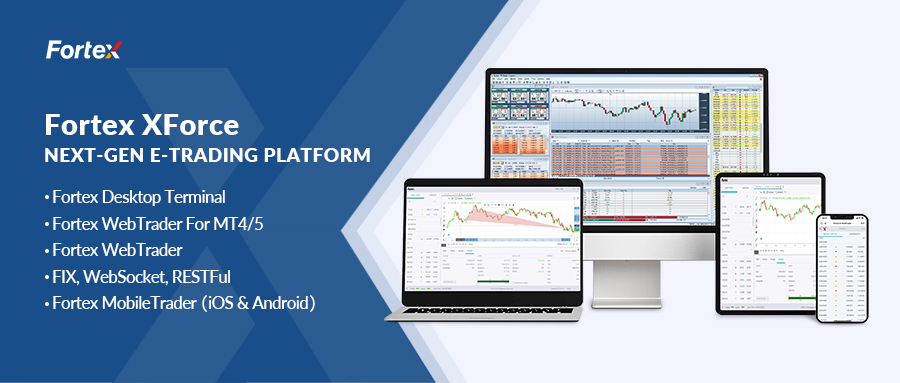 3. Access to Prime Liquidity
Fortex's institutional clients have access to premium liquidity and market depth with the option of 500+ global trading counterparties and venues and 10,000+ assets.
4. Recognized by Global Regulators
Regulatory authorities have strict requirements for the trading software used by financial providers. Fortex XForce is recognized by many regulators and helps financial institutions pass regulatory audits.
5. Advanced Features
XForce has advanced features on charting, order placing, account management, execution, order routing, reporting and liquidity sourcing and distributing. It brings accurate market analysis and extremely fast trading experience.


Please Leave your message to https://www.fortex.com/en/contact/
About Fortex
Founded in 1997, Fortex Technologies aims to revolutionize trading with its powerful, neutral, multi-asset trading platform focused on the FX, equities. Fortex's XForce solution, ECN, MT4/5 bridges, infrastructure hosting, and more are used by regional banks, hedge funds, asset managers, broker-dealers, and professional traders around the world to enhance liquidity access, improve execution workflows and support sophisticated trading strategies.