Fortex enjoys 5 years robust growth and success in crypto industry
Fortex experiences robust growth and success in the crypto industry since it launched the crypto asset e-trading solutions 5 years ago.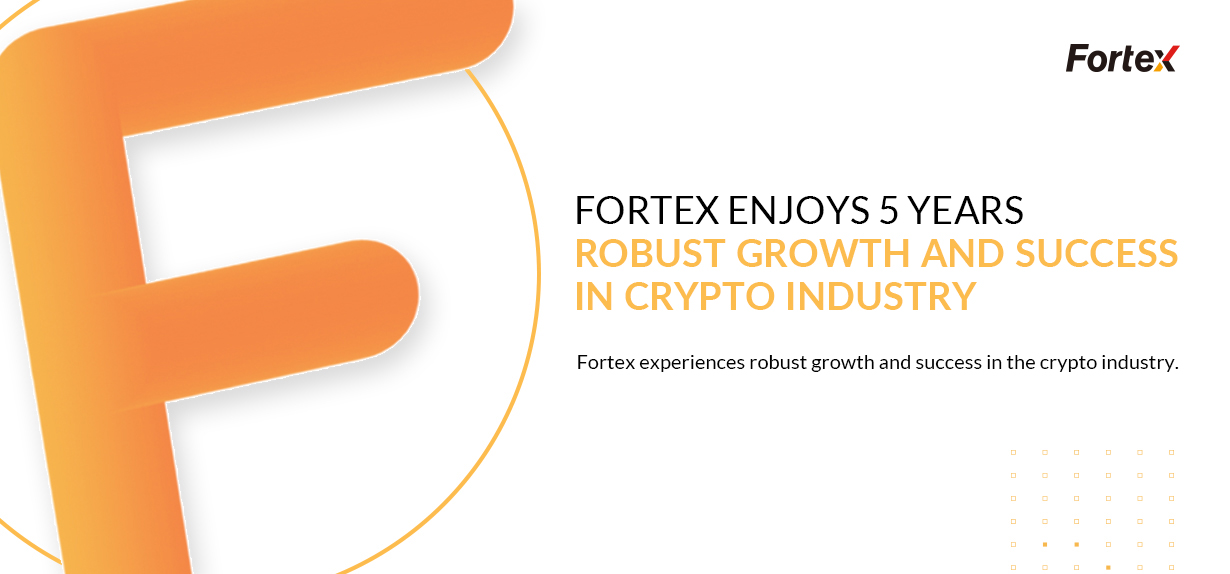 Full Stack e-Trading Solutions. Bringing and fusing together the traditional asset classes and the crypto assets with the XForce e-trading platform.
Direct Market Access. Full support of the top 9 crypto exchanges. OKCoin, OKEx, Huobi, Binance, FTX, Coinbase, Kraken, Bitstamp, Bitfinex and many more.
Access to Crypto Liquidity. Accessing to 1,000+ crypto trading products on spot, margin spot, perpetual, futures and swaps, etc.
Strategic Partnership. Strategic partnership with OKCoin and many others, covering key business aspects, including trading platforms, liquidity sourcing, order execution and risk management, etc.
Products Innovation. Innovative trading products like EUR/USDT, XAU/USDT, US30/BTC and USO/ETH are made possible as we leverage our financial know-how and technological expertise to combine the FX/Metal/Energies/Equities markets and cryptocurrency markets.
Full Support to MT4/5. All above features are fully supported to MetaTrader4/5 clients using our advanced Fortex MT4/5 Bridge.
Fortex crypto solution is an essential part of Fortex EcoSystem of e-trading Solutions, which consist of 3 major cornerstones, the XForce e-Trading Platform, the XCloud Managed Hosting and the XLiquidity Multi-asset Liquidity.
XForce E-Trading Platform
XForce e-trading platform packs liquidity aggregation, order and risk management, MT4/5 bridges, FIX API, hosting and multiple trading GUI in one valued SaaS offering. It is broker-neutral and liquidity agnostic, with a sole mission to facilitate interconnectivity of our global clients to their best trading counterparties.
XCloud Managed Hosting
XCloud offers premium dedicated servers hosted in NY4 (New York), LD5 (London), and HK1 (Hong Kong), global network, cross connects and securities to Fortex clients.
XLiquidity Multi-asset Liquidity
Accessing liquidity and market depth from 500+ global trading venues, including Money Center Banks, Non-Bank liquidity providers, hedge funds, futures exchanges, cryptocurrency exchanges and OTC-desks. Fortex seamlessly accesses over 10,000 + global trading products including spots, futures, swaps, CFDs and derivatives on equities, stock indies, FX, metals, energies, commodities on both exchanges and OTC markets.
About Fortex Technologies
Founded in 1997, Fortex continues to revolutionize trading with its powerful, neutral, multi-asset trading platform focused on the global market, ECN, infrastructure hosting and more are used by regional banks, hedge funds, asset managers, broker dealers and professional traders around the world to enhance liquidity access, improve execution workflows, and support sophisticated trading strategies.
Fortex maintains its technology leadership through continuous innovation, bringing together the latest processing, intelligent routing, and execution technologies with a robust, always-on platform. As hosted solutions, Fortex platforms are customized to customers' specific trading environments and deployed quickly. The company's unwavering commitment to customer service helps Fortex customers build and sustain their competitive trading advantages in changing markets.