Fortex Launches a Free Community Version of its MT4 WebTrader
Redwood Shores, California, September 2, 2016 - Fortex, Inc., a leading electronic communication network (ECN) trading platform, has announced the launch of a free community version of its robust MT4 WebTrader.
With Fortex's MT4 WebTrader, traders can access MT4 anywhere, anytime on all major browsers and devices. Featuring 100% streaming connectivity and superior stability and reliability, Fortex's MT4 WebTrader offers market and limit ordering, full market depth and advanced charting in a user-friendly, mobile-optimized streaming app.
Fortex has recently made a community version of its MT4 WebTrader available for free, with full functionality, to any broker meeting certain requirements. Brokers with access to the MT4 environment can go to the Fortex website to register: https://www.fortex.com/MTWebTraderSignup/en/register/
A demo of the product can be viewed here: https://goo.gl/tnfRhU.
A screenshot from the Fortex MT4 WebTrader: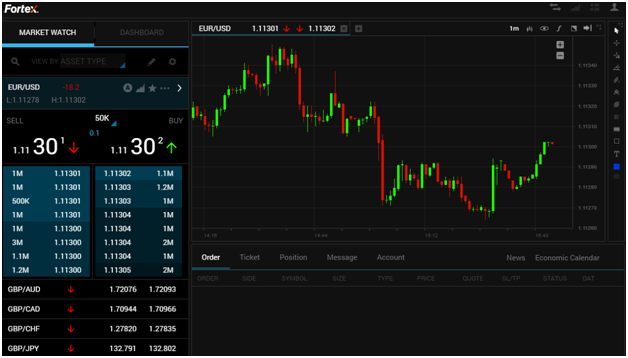 About Fortex
Fortex is the world's leading ECN platform, with up to $12 billion of daily volume in currency, metals, energy, and CFD trades and 500,000 tickets a day for tens of thousands of traders around the world. The company's powerful Fortex 6 platform, sophisticated cloud infrastructure, and middleware solutions have revolutionized currency, commodity, and equity trading. Today, traders, broker dealers, market makers, money managers, banks, hedge funds, and investors around the world rely on Fortex to facilitate trade execution and support sophisticated trading strategies. Some of the world's most successful currency trading firms have built their FX businesses on the Fortex platform. Fortex is headquartered in Redwood Shores, California with offices in New York, Boston, Hong Kong, Shanghai, and London. The company is privately held.
More information about Fortex can be found at https://www.fortex.com