Fortex客戶獲得接入大宗經紀服務和全球頂級銀行的流動性
Fortex FX Platform STP Integration Key to Better Liquidity and Pricing
REDWOOD SHORES, Calif., May 19, 2008 – As the result of successful STP integration with many of the world's leading banks, Fortex, Inc., the leading provider of independent, real-time multi-asset trading platforms, today announced that its clients can now take full advantage of prime brokerage services. Fortex clients can trade directly with top-tier global banks for better pricing and liquidity while minimizing credit risk and significantly improving their profit margins.
The Fortex FX Multibank Portal has been integrated with many of the world's largest banks, enabling its clients to STP trades directly to Citibank, Bank of America, Barclays Capital, Goldman Sachs, and Lehman Brothers, with Citibank acting as prime broker. This specific Fortex FX system was placed in production in October 2007, delivering proven scalability and performance. Today the system processes $70 billion per month in FX trades from more than three million tickets for over 22,000 high-velocity trading accounts worldwide. The Fortex FX platform is also integrated with the banks' Traiana Harmony systems for real-time trade reconciliation between banks and the prime broker.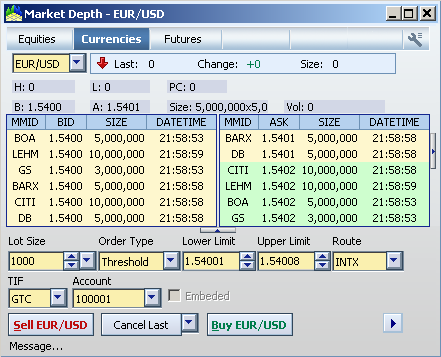 "We are delighted that the world's major FX players have expressed such high confidence in the Fortex platform that they are extending prime brokerage service and deep liquidities to our high-velocity clients," said Daniel Chen, CEO and co-founder of Fortex. "Through Fortex FX, our customers can work directly with highly credible institutions and significantly enhance their profitability. We also bring higher trade volumes and new customers to the banks, which is good for their business. We believe that this type of close integration and cooperation will benefit the entire FX market."
Intelligent routing technology (INTX) in Fortex FX enables Fortex customers to quickly discover the best price and maximum liquidities among competing bank offerings. With deep liquidity offered by numerous banks to Fortex clients, extremely tight spreads in the consolidated core feed provide them with higher mark-ups than they can achieve with traditional rebates for order flow. And with Straight-Through Processing (STP) integration, the Fortex FX platform now automatically STPs clients' trades to the bank, eliminating the credit risk associated with having to place trades through a secondary market executing broker. Fortex has documented client profitability increases of up to 60 percent while simultaneously providing superb credit assurance from major global banks.
The Fortex FX platform provides direct access to FX markets for supporting global trading operations. The INTX engine delivers STP without human intervention—speeding execution, enabling 24x7x365 trading, and reducing execution costs. It is also the only FX trading platform to deliver advanced features such as fully automatic pre- and post-allocation capabilities, scalping detection and rejection, domain-based quotes, auto hedging, internal matching, and superior real-time risk management. Fortex also offers a multi-asset trading platform, Equities Plus, which provides neutral, direct real-time access to all U.S. exchanges, ECNs, and market makers for broker-dealers, market makers, clearing houses, trading firms, hedge funds, money managers, proprietary traders, and professional investors. Fortex FX and Fortex Equities Plus are available as hosted solutions.
About Fortex
Fortex is the leader in developing and deploying world-class, multi-asset trading systems for foreign exchange, equities, options, and futures trading. Only Fortex delivers completely neutral, real-time platforms that provide direct access to all global exchanges and leading market makers through a single trading interface. The company is privately held and headquartered in Silicon Valley. For more information, please visit www.fortex.com.