Fortex's Network Infrastructure for Quick-to-Provision Global Connectivity
One integral part of Fortex's e-trading ecosystem is Fortex data center facilities, which provide stable, safe and highly reliable connectivity experience for Fortex global clients.
At present, Fortex data center facilities are globally deployed crossed Equinix New York NY4, London LD4 and Hong Kong HK1, right at the world's largest financial market centers.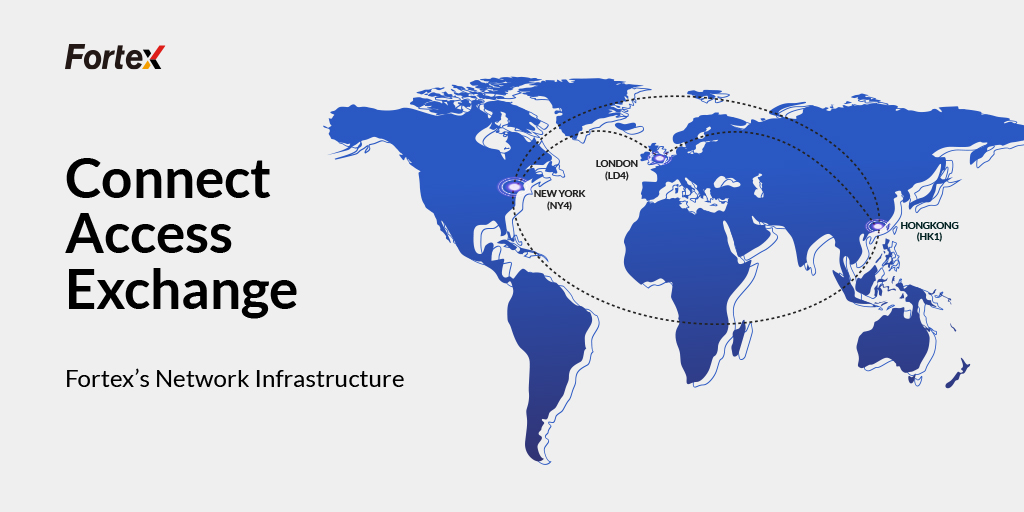 Fortex's connectivity to the world's top financial companies in a fast manner with low latency is also highly recognized with its high network availability, disaster recovery and robustness to help our clients to reduce trading cost, simplify workflow and enhance end users experience for our institutional clients, as well as global operators.
E-trading focused, efficient and stable
Share our 25 years successful track record and technology expertise accumulated when serving over 500 global financial big players with banks, LPs, brokers/dealers, exchanges, asset managers and IT vendors in the line.Carrier-grade hardware and stability with 99.99% high availability. High-performance CPU, Raid array storage, multiple private network access, multi-network ISP, hot standby, industry-leading security and network architecture to ensure efficient business operation.
Carrier-class security
the high-performance firewalls of Fortinet provide five times faster throughput than other firewalls on the market, with high-performance DDoS protection. It ensures maximum business stability and avoids service downtime or loss of control due to operator control.
Premium global network
A global network designed for e-trading, offering flexible bandwidth and multiple ISP lines, with direct fibre optic connections between LD4, NY4 and HK1, ensuring a superior global interconnection experience under any conditions.
Highly scalable and cloud-native
Fortex's global data center in Equinix leverages cloud computing technology to create a top-notch infrastructure that can increase CPU, RAM, storage and network capacity at any time based on user demand. This capability reduces latency and ensures high throughput performance, enabling fast delivery of trading data to the trading market, increasing the agility, efficiency and profitability of operations of institutional client's systems.
Cross-connect to global markets
Low latency and stable access to LPs, dealers/dealers, brokerages, banks, etc. in New York, London and Hong Kong that also co-locate in Fortex facilities, enabling institutional clients to aggregate the best global liquidity with higher performance, improving stability and accuracy of quotes and enjoying higher order execution speed.
24x7 specialists support
Specializing in financial system operations and maintenance, we provide 24-7 response worldwide, with one-to-one gold service from financial system customer service professionals, offering the world's leading level of technical support at any time for customers to deploy trading systems, high-frequency quantitative programs, and operation and maintenance of MT4/5, etc.
Please Leave your message to https://lnkd.in/deYRMePc.
About Fortex
Founded in 1997, Fortex Technologies aims to revolutionize trading with its powerful, neutral, multi-asset trading platform focused on the FX, equities, and crypto markets. Fortex's XForce solution, ECN, MT4/5 bridges, infrastructure hosting and more are used by regional banks, hedge funds, asset managers, broker dealers and professional traders around the world to enhance liquidity access, improve execution workflows and support sophisticated trading strategies.