Fortex: Pioneering MT4/5 Bridging Technology and Beyond
Fortex, a leading provider of institutional liquidity and multi-trading solutions, has a long-standing history of innovation in the financial trading industry. Notably, the company achieved a significant milestone by introducing the first-ever bridge for MetaTrader 3 (MT3). Building upon this foundation, Fortex has continued to revolutionize the trading landscape with its advanced MT4/5 bridging technology.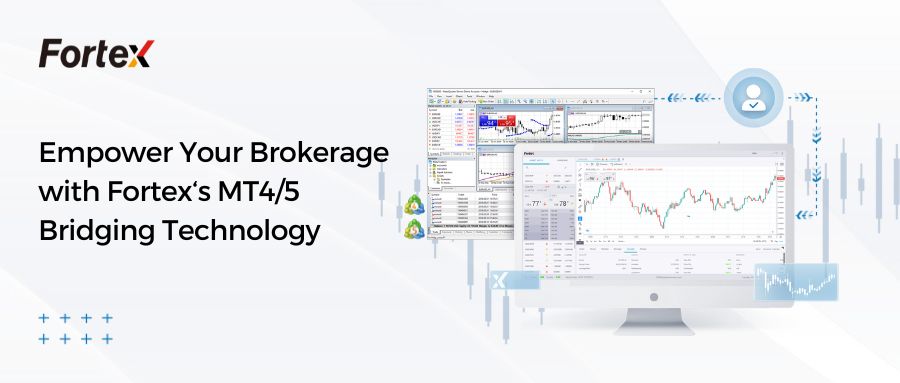 This article delves into Fortex's groundbreaking contributions and highlights how their bridging technology has empowered traders worldwide.
A Legacy of Innovation
Fortex's groundbreaking achievement of creating the first bridge for MT3 showcased their commitment to pushing the boundaries of trading technology. The introduction of this bridge allowed traders to access liquidity from multiple providers directly within the MetaTrader platform, streamlining the trading process and enhancing efficiency.
Advancing with MT4/5 Bridging Technology
Building on their success, Fortex recognized the evolving needs of traders and the industry's shift toward the MetaTrader 4 and MetaTrader 5 platforms. To address these demands, Fortex developed cutting-edge bridging technology, seamlessly integrating MT4/5 with diverse liquidity providers and opening a world of opportunities for traders.
Benefits of Fortex MT4/5 bridging technology include:
Enhanced Trading Capabilities

Fortex's MT4/5 bridging technology significantly expands market access for traders. By connecting with various liquidity providers, including banks, non-bank financial institutions, and ECNs, traders gain access to a broader range of tradable instruments. This increased market reach encompasses forex, commodities, indices, and more, enabling traders to diversify their portfolios and capture new trading opportunities.

Streamlined Order Execution

Fortex's bridging technology optimizes order routing and execution, resulting in minimal latency and slippage. With access to multiple liquidity providers, traders benefit from competitive pricing and

faster trade execution, leading to improved trade outcomes and enhanced profitability. The technology ensures that traders' orders are executed efficiently, empowering them to capitalize on market movements in real-time.

Tailored Risk Management Solutions

Fortex understands the importance of risk management in trading. Their bridging technology offers robust risk management tools, allowing traders to set risk parameters, implement stop-loss orders, and manage exposure effectively. These features provide traders with greater control over their trading activities, reducing potential risks and fostering a disciplined approach to trading.

Seamless Integration and User Experience

Fortex's bridging technology seamlessly integrates with the MetaTrader 4 and MetaTrader 5 platforms, preserving the user-friendly and intuitive trading experience traders are familiar with. Traders can access real-time market data, monitor positions, analyze charts, and execute trades effortlessly, eliminating the need for multiple platforms and enhancing overall efficiency.
Continued Innovation and Excellence
Fortex's pioneering contributions to MT4/5 bridging technology exemplify their dedication to meeting the evolving needs of traders. By providing advanced reporting and analytics capabilities, Fortex equips traders with invaluable insights to assess performance, analyze data, and refine their strategies continually.
Fortex's MT4/5 bridging technology represents a revolution in the world of trading. With expanded market access, lightning-fast execution, advanced risk management, seamless integration, and unparalleled support, Fortex empowers traders and brokers to reach new heights of success. As the industry leader, Fortex continues to redefine the trading landscape with innovative solutions that amplify trading potential and elevate trader experiences. Discover the power of Fortex's MT4/5 bridging technology and unlock a world of trading opportunities like never before.
Please Leave your message to https://www.fortex.com/en/contact/
About Fortex
Founded in 1997, Fortex Technologies aims to revolutionize trading with its powerful, neutral, multi-asset trading platform focused on the FX, and equities markets. Fortex's XForce solution, ECN, MT4/5 bridges, infrastructure hosting, and more are used by regional banks, hedge funds, asset managers, broker-dealers, and professional traders around the world to enhance liquidity access, improve execution workflows and support sophisticated trading strategies.