Fortex revolutionizes Forex trading for the EU market
Recently, Fortex has garnered significant media attention within the industry. Following its feature in Finance Magnates, the company was extensively interviewed by Finance Feeds, a reputable financial media outlet.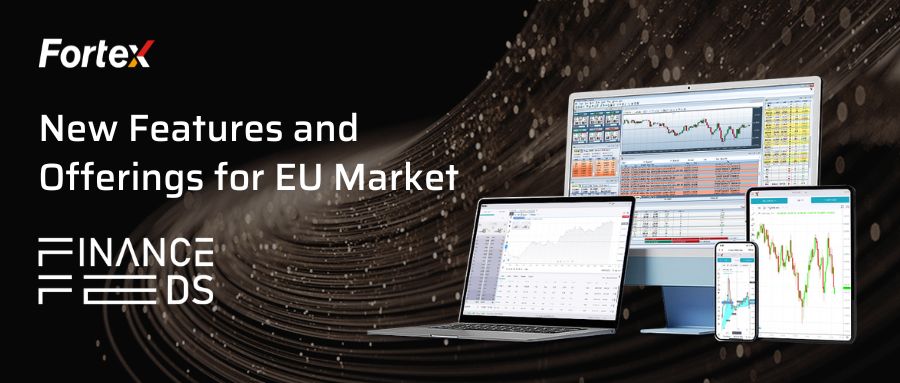 During the interview, Fortex highlighted the transformative impact of innovative technologies and models on the global trading landscape. As a frontrunner in the provision of advanced technology for multi-asset trading, Fortex emphasized its commitment to meeting the evolving demands of traders and brokers in the EU. This dedication is achieved through continuous exploration and innovation in trading and solution development, resulting in the introduction of numerous new features and services.
Fortex revolutionizes forex trading: new features and offerings for EU market success
The global trading landscape is evolving rapidly, with the increasing demand for advanced trading tools and solutions. In response, Fortex, a leading provider of institutional foreign exchange trading solutions, has expanded its trading features and product offerings to cater to the needs of EU traders and brokers. This expansion demonstrates Fortex's commitment to providing state-of-the-art trading tools for its clients and remaining competitive in the fast-paced fintech market.
Innovative Trading Features for an Enhanced Experience
Fortex's newly introduced trading features include a trade history function, a price level display feature, and a one-click trading option. These features aim to improve the trading experience for EU traders and brokers by providing real-time market data and advanced trade execution tools. For example, the trade history function enables traders to review their trading activity and monitor their performance over time, offering valuable insights for decision-making.
On the other hand, the price level display feature presents a quick overview of key currency pairs to help traders stay informed about market conditions. Lastly, the one-click trading option streamlines the trade execution process, making it faster and more efficient for traders to respond to market fluctuations.
Expanded Product Offerings and Flexible Pricing Plans
Besides introducing new trading features, Fortex has also revised its pricing plans to provide brokers and financial institutions with more flexibility. The company's new pricing plans offer a range of options to accommodate different needs and budgets, ensuring that clients can select the plan that best suits their requirements.
Aris Christoforou, Fortex's Head of Marketing and Regional Operations, expressed enthusiasm about the expansion, stating, "We are delighted to announce these new trading features and pricing plans, which we believe will provide our clients with the tools and options they need to do business with us more efficiently and effectively."
Capitalizing on the Growing EU Market
Fortex's expansion of trading features and product offerings is crucial as the EU market proliferates. By introducing advanced trading tools and flexible pricing plans, Fortex is well-positioned to capitalize on this growth and expand its regional client base. In addition, the company's commitment to innovation and excellence in trading technology will likely set it apart in an increasingly competitive marketplace.
Please Leave your message to https://www.fortex.com/en/contact/
About Fortex
Founded in 1997, Fortex Technologies aims to revolutionize trading with its powerful, neutral, multi-asset trading platform focused on the FX, equities. Fortex's XForce solution, ECN, MT4/5 bridges, infrastructure hosting, and more are used by regional banks, hedge funds, asset managers, broker-dealers, and professional traders around the world to enhance liquidity access, improve execution workflows and support sophisticated trading strategies.