Fortex XForce: The World's Top E-Trading Platform
Fortex XForce, is the core component of the Fortex electronic trading ecosystem.
XForce is a multi-asset trading platform that packs liquidity aggregation, order and risk management, clearing and settlement, MT4/5 Bridges, FIX API, hosting, and multiple trading GUI into one valued cloud native SaaS offering in NY4/LD4/HK1.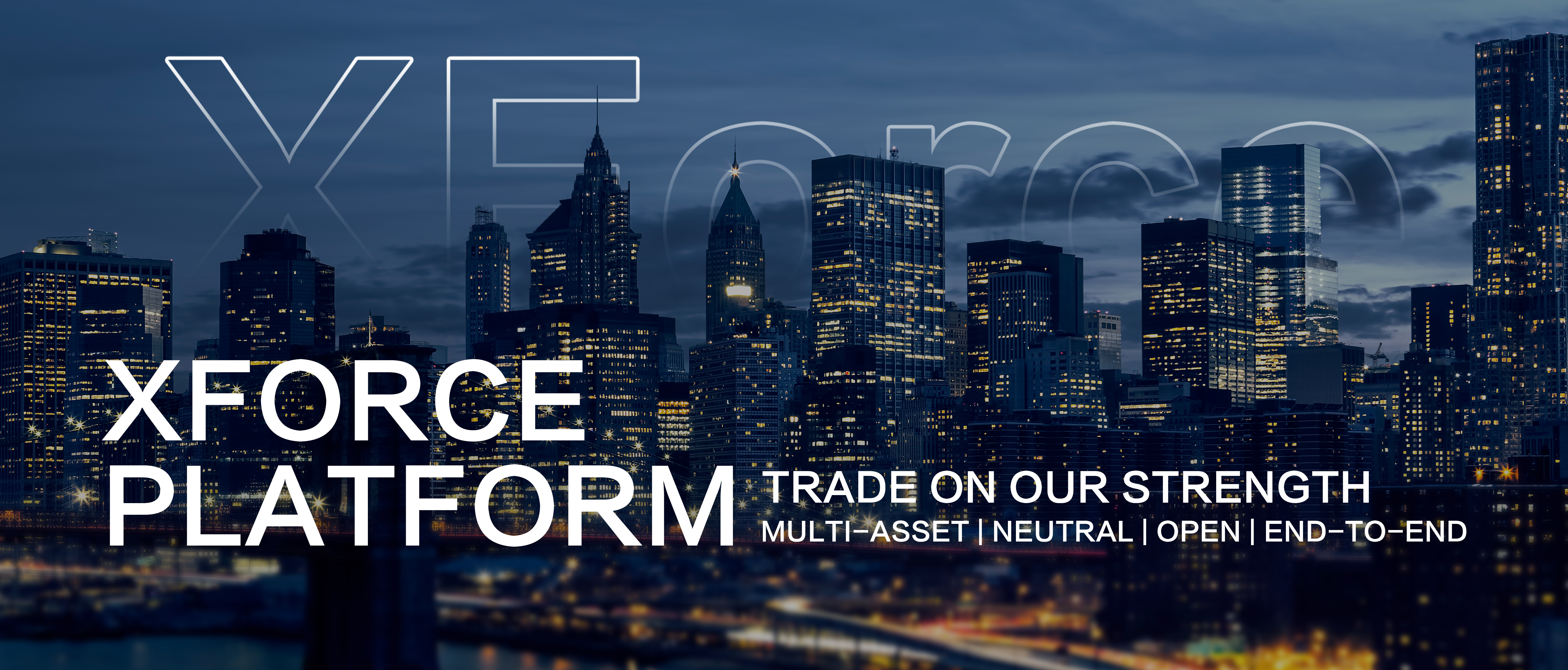 I. XForce Characteristics
1. Multi-asset
Supports a wide range of asset classes on both Exchange and OTC markets; including equities, futures, FX/CFDs, energies, metals, digital assets and other derivatives.
2. Neutrality
Fortex institutional customers can autonomously connect to the exchanges, banks, and LPs (liquidity provider) without conflict of interest.
3. Open Platform
Open and flexible. Easy to integrate through business workflow and third-party solutions.
4. Proven Technology
Industry-leading stability, reliability, scalability and performance.
5. Complete front-end to back-end
A stand-alone, cloud computing, yet powerful trading terminal that contains account systems and other management modules.
6. E-trading workflows in one package
You get a safe, efficient and reliable business operation platform in one package.
II. XForce Features
1. Institution Trading Platform
Use XForce's terminal to complete complex transactions with different market participants.
2. Market Access and Management
Get access to global stock, futures, digital asset exchanges, banks, prime brokers, and much more.
3. Liquidity Distribution
Unique system that provides liquidity distribution, clearing and settlement functions, and trading terminals.
4. XForce: Risk Management
Provide trade customization; trade protection; STP management, position size, counterparty risk, and liquidity pool etc.
5. XForce: Pricing Engine
A high concurrency and low latency quotation engine, a flexible market source, multi-channel quotes, market parameter configuration and settings.
6. XForce: Order Matching & Management
Order matching with markets and trading venues; order insertion; position allocation; trade hedging; multi-account management; MAM mode; fund manager mode, etc.
7. XForce: Clearing & Settlement Technology
Multi-mode, multi-currency, and multi-market clearing and settlement technology for on-exchange and over-the-counter transactions for banks, CCPs, and exchanges.
8. XForce: Account Management
Create all different types of accounts, such as credit, margin , trading, FIX API, bridge, Omnibus, Minibus, fund manager, market accounts and more!
9. Layered Roles
Create different roles such as global manager, domain manager, financial manager, risk control manager, etc.
10. Connectivities
XForce grants users access to tools such as FIX API, MT4/5 Bridge, WebSockets, RESTful API, etc.
11. Backend Management
XForce has a centralized backend to manage the core key business of electronic transactions.
12. Regulatory Reporting
XForce users can rely on our backend system to meet regulatory requirements and corporate governance practices.
13. Prime Broker
Allows users to integrate with banks, prime brokers, and post-trade processors to provide prime brokerage, or give-up technology solutions.
14. White-Labeling
We offer different options for your branding need to create a highly customized e-trading platform environment.
Please Leave your message to https://lnkd.in/deYRMePc.
About Fortex
Founded in 1997, Fortex Technologies aims to revolutionize trading with its powerful, neutral, multi-asset trading platform focused on the FX, equities, and crypto markets. Fortex's XForce solution, ECN, MT4/5 bridges, infrastructure hosting and more are used by regional banks, hedge funds, asset managers, broker dealers and professional traders around the world to enhance liquidity access, improve execution workflows and support sophisticated trading strategies.