How do MT4/5 online brokers/dealers succeed with Fortex?
Fortex, The world's leading multi-asset trading solutions, focuses on providing secured and stable trading network while offering the best service for online brokers. Our goal is to help our global clients thrive and achieve their trading targets.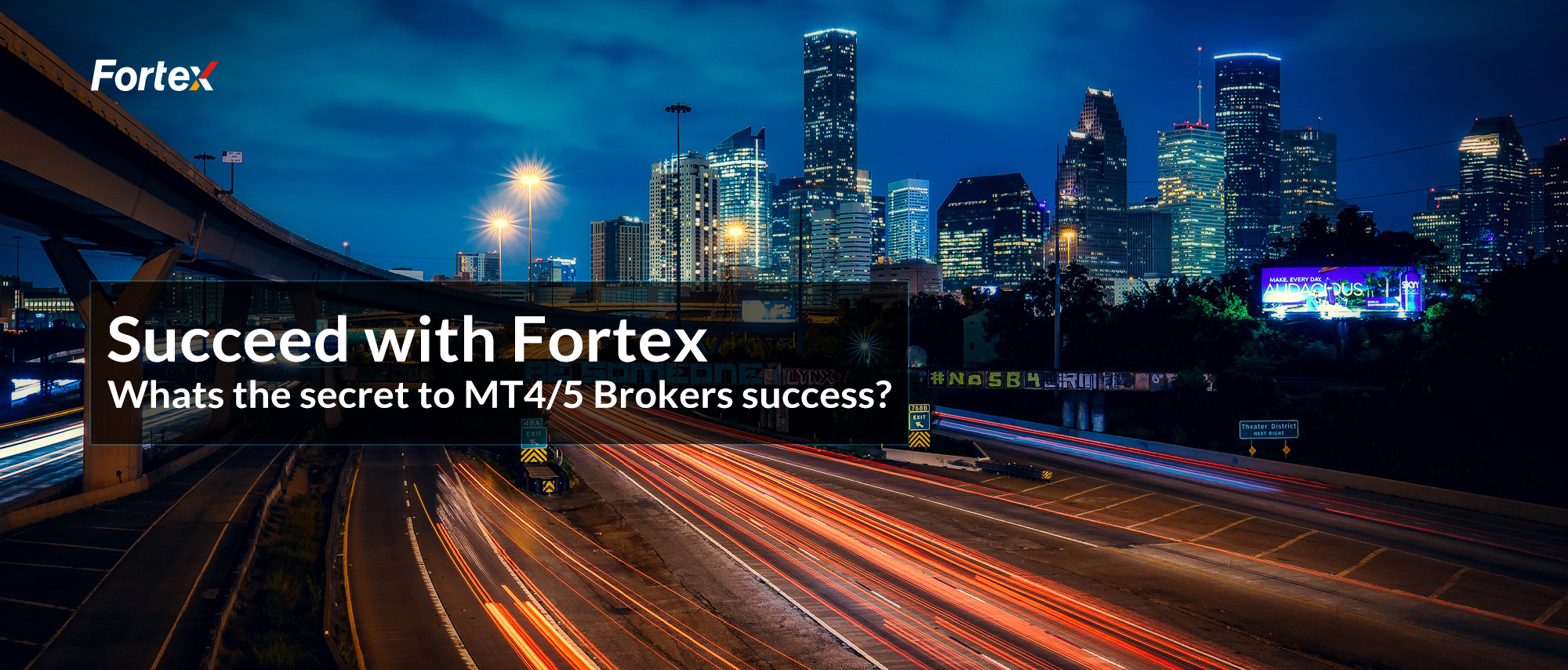 We will be sharing a series of example cases to give you an idea of how Fortex helps online brokers succeed.

The first case we are sharing today is the "MT4/5 online brokers case".
1. Who are MT4/5 online brokers/dealers?
MT4/5 online brokers/dealers provide e-trading services on FX/CFD, equities, futures, stock indexes via internet to global clients through the popular trading platform MetaTrader4 and MetaTrader 5. 
2. Their Needs:
It is estimated that there are approximately over 1,000 MT4/5 online brokers/dealers and over 10 million end users around the world. While the needs of brokers/dealers may vary, they fall under the categories below. 
3. Client Satisfaction
Improved trading environment with prime liquidity and reduced transaction costs.
Robust, stable, reliable market data stream.
Global, diversified and multi-asset trading products.
Institution-level execution
Swift and low latency order execution.
Easy accessibility to trading platform.
4. Operation Efficiency
Efficiency of managing LPs, trade counterparties, symbols, market data and liquidity.
Liquidity pools differentiation.
Failover plan for market data and execution venues sources.
5. Risk Management and Backoffice Reporting
Identify and manage risks with highly configurable methods.
Effectively hedge risks to external counterparties with fast execution and lost transaction costs.
Comply with various regulatory requirements.
6. Fortex Solutions:
Fortex has profound experience of helping online MT4/5 brokers/dealers succeed. In fact, many industries renowned MT4/5 online brokers/ dealers build their key e-trading workflow based on Fortex Ecosystem of Solutions, including trading platform, IT infrastructure, and liquidity network. Here are some examples regarding how an online MT4/5 broker/dealer will leverage Fortex solution to succeed.
7. Fortex XForce E-trading Platform:
Our platform solves the challenges of having difficulties with market access, LP (Liquidity Provider) integration. Moreover, it also helps users with risk management, liquidity pool management, order execution, etc.

Access To Global Markets

Use Fortex XForce to access to the world's top Liquidity Partners such as banks, exchanges, LPs, ECNs, hedge funds and other liquidity pools to source liquidity of the global trading products, such as equities, futures, FX/CFD, indexes.

Risk Management

Use XForce to identify and quantify trading risks on both end users and trade counterparties. Build order routing strategies, execution rules and STP rules to counterparties to properly hedge your risks. Use Fortex 5 trading frontend to place manual orders for hedging.

Quote Making

Based on multiple liquidity sources and highly configurable strategies, one may utilize this function to customize outgoing price stream, to better cater to professional and retail users

Build your LP Offering and Distribute Your Liquidity

Use XForce to build your LP offering and distribute your liquidity to VIP clients and institutional clients, to better differentiate your business from the others.

Bridging to MT4/5

All the advanced trading and managerial features are available to MetaTrader4/5 using Fortex MT4/5 Bridge OMX to connect XForce to your MT4/5.
8. Fortex XCloud IT Infrastructure
Fortex XCloud grants a stable, safe and highly reliable connection to the client's financial system server, while maintaining low latency for global interconnection.

Providing High MT4/5 Availability

An MT4/5 broker/dealer enjoys our managed hosting data centers at our Equinix NY4/LD4/HK1 facilities that are designed for e-trading with carrier level security, stability and high availability. With high-performance CPU, Raid array storage, multiple private network access, multi-network ISP, hot-hot backup and network architecture, an MT4/5 broker/dealer can better focus on their clients, but not the IT infrastructure.

Low-latency Connection to Global Network

Provide direct optical fiber connection and flexible broadband between LD4, NY4 and HK1, as well as top-level cloud computing infrastructure, to ensure low latency and high throughput performance of the client network to improve the efficiency and agility of customer login to MetaTrader4/5.
9. Fortex XLiquidity
Fortex, is an open and neutral platform that provides connections between market makers and market takers. Both broker/dealer and Liquidity Providers are in the Fortex Ecosystem. Our service network guarantees streamlined workflow, safe and stable connections for each transaction.
Please Leave your message to https://www.fortex.com/en/contact/
About Fortex
Founded in 1997, Fortex Technologies aims to revolutionize trading with its powerful, neutral, multi-asset trading platform focused on the FX, equities. Fortex's XForce solution, ECN, MT4/5 bridges, infrastructure hosting and more are used by regional banks, hedge funds, asset managers, broker dealers and professional traders around the world to enhance liquidity access, improve execution workflows and support sophisticated trading strategies.