New Features on XForce for Better Trading
We are thrilled to announce the latest update to Fortex WebTrader, featuring a host of powerful enhancements that will elevate your traders experience to new heights. Our team has been hard at work, carefully crafting these new features to make each trading journey even more seamless, informative, and efficient. Let's take a closer look at the new features.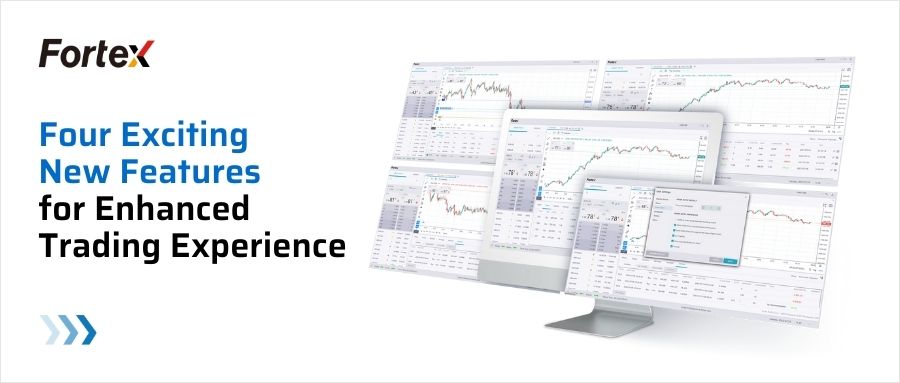 1. Enhanced Trading Details with Swap Section:
Introducing the new "Swap" section in trading details, providing easy access to comprehensive information about trades, tickets, and history. Stay informed about swap rates, fees, and relevant data, enhancing visibility and control over your trading positions.
2. Convenient Chart Functionality and Deposit/Withdrawal:
Our platform now offers seamless access to deposit and withdrawal records directly within the history section. This means you can conveniently review your financial activities alongside managing your trades, eliminating unnecessary navigation. With advanced chart functionality and all account information in one place, keeping track of your finances has never been easier.
3. Introducing the Drag and Drop Price Line feature:
Say goodbye to the hassle of manually entering Stop Loss (SL) and Take Profit (TP) levels. With this new feature, you can now effortlessly generate and modify SL and TP orders directly on the chart by simply dragging and dropping the price line to your desired levels.
4. Immersive Trading Experience with Added Sounds:
Immerse in the trading environment with sounds for specific trading events. Stay updated on trade execution status and market activity with auditory cues. Never miss a beat with our new sound features.
Explore the latest updates to Fortex WebTrader, offering convenience, data accessibility, charting flexibility, and an immersive trading atmosphere. Make well-informed decisions, execute precise trades, and stay ahead in dynamic markets. Join our trading community now to experience these cutting-edge features. Happy trading!
Please ensure your platform is up-to-date to enjoy all the latest enhancements. We value your feedback and are committed to continuously improving your trading journey with Fortex.
Please Leave your message to https://www.fortex.com/en/contact/
About Fortex
Founded in 1997, Fortex Technologies has been at the forefront of revolutionizing trading experiences with its robust, neutral, multi-asset trading platform. Our platform's stellar features, including the XForce solution, ECN, MT4/5 bridges, infrastructure hosting, and more, are trusted globally by regional banks, hedge funds, asset managers, broker-dealers, and professional traders. It's time to upgrade your liquidity access, refine your execution workflows, and support sophisticated trading strategies with Fortex.