With or Without MT - Fortex XForce Trading Platform
Fortex's new generation of trading platform XForce combines a full-fledged independent trading platform with the best MT4/MT5 liquidity management system, two-in-one. It empowers financial institutions to offer online trading services in Stocks, Futures, FX/CFDs, Cryptocurrencies, and Derivatives. We invite you to share our success.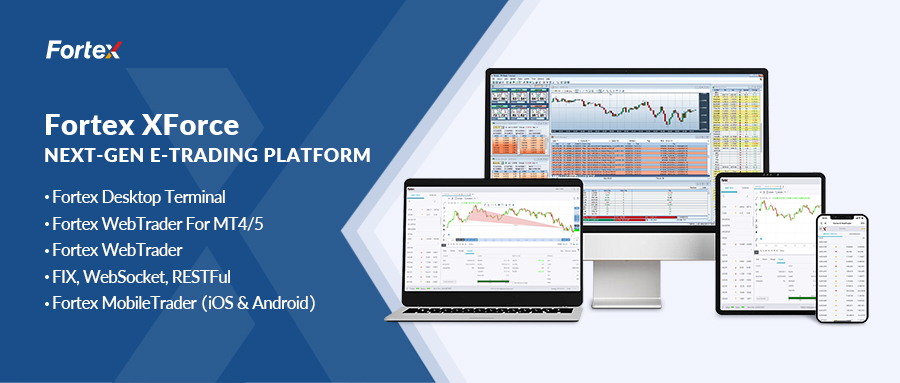 Fortex XForce's advanced features and benefits include:
5 WAYS TO TRADE
Institutional Desktop Terminal
Web Trader
Mobile Trader (iOS & Android)
FIX API
WebSockets and RESTful API
ADVANCED BACKOFFICE
Fortex XForce automates a range of middle and back-office brokerage operations, including:
CRM and KYC Module
IB Portal
Fund Manager PAMM
Compliance and Reporting
Liquidity Sourcing and Distribution
Clearing and Settlement
Quote Maker
Risk & Order Management
MT4/5 Bridges
A TURNKEY SOLUTION

Fully Branded Desktop Terminal
Fully Branded Web Trader(PC & Mobile Web Browser)
Fully Branded Mobile Trader ( iOS & Android )
Account Management System
3-Tiered Margin System
Backoffice with Multi-asset Support
Liquidity Aggregator
Risk Management System
Gateway to Liquidity Providers
Multi-asset Price Feeds
Bridges & Web/Mobile Traders to MetaTrader 4/5
Server and Infrastructure Hosting
APIs
YOUR TRUSTED PARTNER

U.S. Silicon Valley company with 25 years of success in fintech
Trusted by banks, liquidity providers, and brokers worldwide
Neutral and not bundled with LP
Global hosting at Equinix
24/7 premium support service
Please Leave your message to https://www.fortex.com/en/contact/
About Fortex
Founded in 1997, Fortex Technologies aims to revolutionize trading with its powerful, neutral, multi-asset trading platform focused on the FX, equities, and crypto markets. Fortex's XForce solution, ECN, MT4/5 bridges, infrastructure hosting, and more are used by regional banks, hedge funds, asset managers, broker-dealers, and professional traders around the world to enhance liquidity access, improve execution workflows and support sophisticated trading strategies.