XForce Enhances Trading Precision with New Price Level Display Feature
Fortex, a leading fintech provider, has added a new feature on its trading platform XForce, that displays price levels on the chart. This new feature provides traders with greater visibility into their trading strategies, helping them to make better decisions and execute trades with more precision.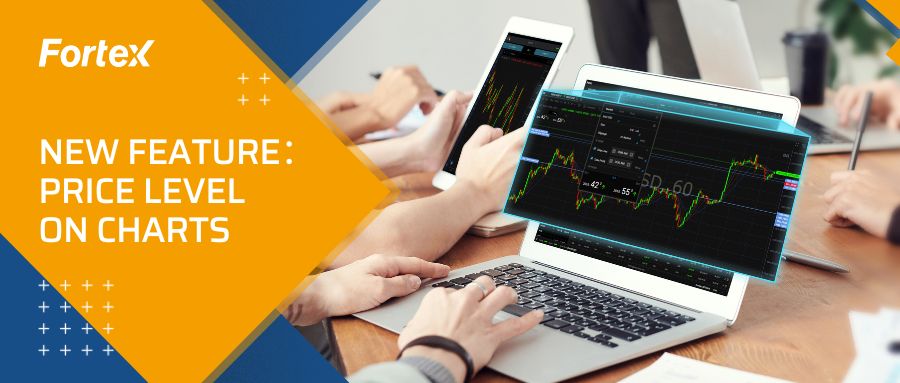 The new feature on XForce allows traders to view the order entry price level, stop-loss or take-profit order level, and buy/sell limit and buy/sell stop order price level directly on the chart. This means that traders can see all the important levels they need to make trading decisions in one place, without having to switch back and forth between different screens.
By having these levels displayed on the chart, traders can better understand their trading strategies and make more informed decisions. For example, they can see whether their orders are being executed at the desired levels, or whether they need to adjust their orders to better align with their strategy.
In addition, having the price levels displayed on the chart makes it easier for traders to monitor their positions and manage their risk exposure. They can quickly see if their stop-loss or take-profit orders are triggered, or if they need to adjust their orders to limit their potential losses or maximize their profits.

Fortex XForce is committed to providing traders with the latest technology and features to help them succeed in the financial markets, and give brokers a competitive edge. The new price level display feature is just one example of how the platform is constantly evolving to meet the needs of its users. If you're a broker looking for a powerful and innovative trading platform, XForce is definitely worth checking out.
Please Leave your message to https://www.fortex.com/en/contact/
About Fortex
Founded in 1997, Fortex Technologies aims to revolutionize trading with its powerful, neutral, multi-asset trading platform focused on the FX, equities, and crypto markets. Fortex's XForce solution, ECN, MT4/5 bridges, infrastructure hosting, and more are used by regional banks, hedge funds, asset managers, broker-dealers, and professional traders around the world to enhance liquidity access, improve execution workflows and support sophisticated trading strategies.