The quest for a trading platform that is both reliable and unerringly stable is a universal concern for brokers and traders alike. All market participants, be they retail investors or institutional professionals, aim for a trading landscape that is not just efficient, but also steadfastly robust, especially in the volatile swings of the marketplace.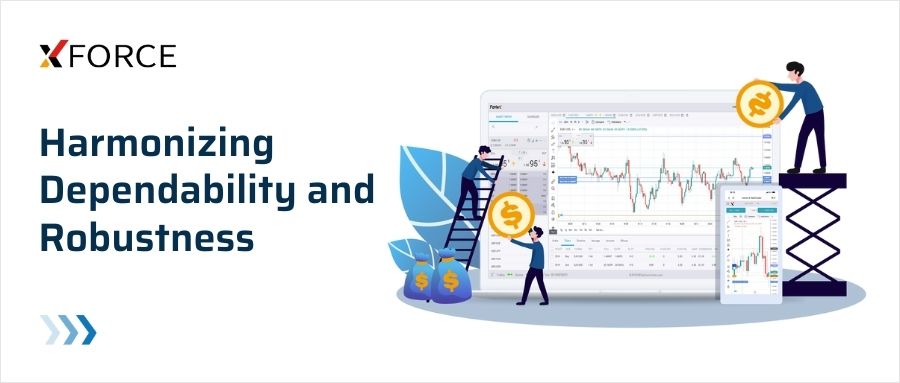 Enter the Fortex XForce trading platform—engineered to satisfy these pressing needs. Its robust performance and notable stability have caught the eye of brokers, making it a focal point of interest. In this article, we explore how this platform equips brokers to deliver an unparalleled trading experience. 
The Broker's Imperative
A trading platform's dependability and robustness are foundational to a broker's business operations, client contentment, and market standing. These factors come into focus for several key reasons: 
Client Confidence and Happiness:

The constancy and trustworthiness of a platform are essential for fostering client trust and satisfaction. Repeated disruptions or delays can undermine client faith.

 

Business Expansion and Competitive Standing:

A reliable platform helps protect traders' interests and reduces errors, failed trades, and untimely stop-loss triggers, enhancing a broker's market edge.

 

Capitalizing on Market Fluctuations:

Quick market shifts and time-sensitive opportunities require a rock-solid platform for efficient order execution, so that trading opportunities aren't missed due to technical issues.

 

Risk Mitigation:

Dependable platforms offer effective risk management features, like stop-loss and take-profit mechanisms, to curtail prospective losses.

 

Regulatory Adherence:

Regulatory bodies in finance enforce stringent criteria for trading platform reliability, requiring compliance with set standards.

 
Exploring the Strength of the Fortex XForce Trading Platform 
Stability Takes Center Stage




In the rapidly evolving world of finance, even a momentary lapse in trading can lead to significant missed opportunities. Fortex XForce guarantees instantaneous trading action, thanks to its unparalleled stability and reliability.

 

Prompt Execution and Order Completion




The real-time reactivity of a trading platform enables traders to quickly capitalize on emerging opportunities without being hamstrung by system constraints. Backed by powerful tech infrastructure, Fortex XForce excels in quick trade executions and speedy order completions.

 

Managing Market Risks




A steadfast platform helps traders in effective risk management. Fortex XForce comes loaded with advanced risk-mitigation tools, including stop-loss and take-profit options, for enhanced risk governance.

 

User Comfort and Credibility




The platform's stability has a direct impact on user experience and credibility. With its consistent performance and smooth trading interface, Fortex XForce has won the trust and loyalty of a diverse clientele.

 
In summary, the Fortex XForce trading platform distinguishes itself in the fluctuating panorama of financial markets, offering a secure and efficient trading playground through its remarkable reliability and robustness. 
 Please leave your message to https://www.fortex.com/en/contact/ 
About Fortex
Founded in 1997, Fortex Technologies has been at the forefront of revolutionizing trading experiences with its robust, neutral, multi-asset trading platform. Our platform's stellar features, including the XForce solution, ECN, MT4/5 bridges, infrastructure hosting, and more, are trusted globally by regional banks, hedge funds, asset managers, broker-dealers, and professional traders. It's time to upgrade your liquidity access, refine your execution workflows, and support sophisticated trading strategies with Fortex.