Unleash unparalleled trading efficiency and transform your forex strategies with Fortex's innovative MT4/5 bridge solutions. Bask in the trading platform's market-leading features, which connect diverse market participants, secure optimal trading conditions, and deliver blistering execution speeds.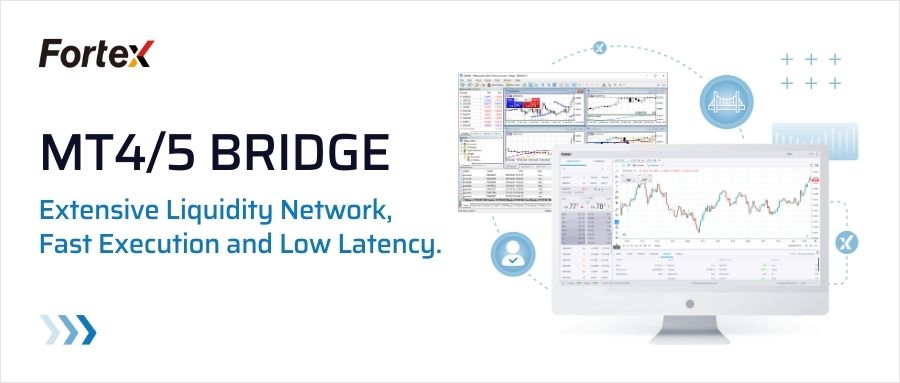 Venture into the Core of Our MT4/5 Bridge Technology 
Engineered by the renowned MetaQuotes, the MT4/5 Bridge Technology lies at the heart of forex and CFD trading. As the critical bridge between the MetaTrader 4/5 trading platforms and various financial market participants, our technology holds the keys to an impressive array of advantages. 
Embrace unlimited connectivity with our bridge technology, effortlessly linking MT4/5 brokers to an array of external liquidity providers, including banks and liquidity pools. Experience seamless integration between trading platforms and external systems, including fund management systems and algorithmic trading platforms. 
Decoding the Selection Process for MT4/5 Bridge Technology by Brokers 
– Liquidity Provision: The capacity to form associations with a myriad of dependable liquidity providers and banks is a cornerstone to securing the most favourable spreads. 
– Execution Speed and Dependability: With the ever-fluctuating nature of the forex market, speed and reliability in execution are vital to evade any setbacks and slippage. 
– Monitoring and Risk Management: Utilisation of robust risk management instruments is indispensable for safeguarding client investments and enhancing trading strategies. 
– Versatility and Adaptability: Offering malleable configuration choices to accommodate diverse business requirements and permitting custom modifications is a must. 
– Security and Steadiness: Unyielding stability is a prerequisite to ascertain the trading platform's security and its ability to ward off potential threats. 
Elevate Your Trading Game with Fortex MT4/5 Bridging Technology 
Since 2004, Fortex has revolutionized the trading landscape with our trailblazing bridge technology. Fortex holds unrivaled global leadership in key facets of MT4/5 bridge technology, including liquidity aggregation, trade execution speed, risk management, and customization. 
Key Features You Can't Resist: 
– Abundant Liquidity: Access extensive markets for superior trade execution and more opportunities. 
– Swift Execution, Low Latency: Enjoy high-speed trade execution and less latency for better spreads and less slippage. 
– Real-Time Data: Utilize live market data for informed trading decisions. 
– Solid Risk Management: Use our robust risk management tools to control risks and fine-tune strategies. 
– Efficient STP: Benefit from fast execution and excellent trading conditions, eliminating the need for a dealing desk. 
– Diverse Trading Tools: Integrate easily with your MetaTrader and explore various markets from one platform. 
– Customizable Auto-Trading: Utilize custom algorithms for automated trading and strategy execution. 
– Insightful Analysis Tools: Leverage our suite of indicators and chart patterns for smart trading decisions. 
Please leave your message to https://www.fortex.com/en/contact/ 
About Fortex
Founded in 1997, Fortex Technologies has been at the forefront of revolutionizing trading experiences with its robust, neutral, multi-asset trading platform. Our platform's stellar features, including the XForce solution, ECN, MT4/5 bridges, infrastructure hosting, and more, are trusted globally by regional banks, hedge funds, asset managers, broker-dealers, and professional traders. It's time to upgrade your liquidity access, refine your execution workflows, and support sophisticated trading strategies with Fortex.