"If I have seen further, it is by standing on the shoulders of giants." Isaac Newton says.
The successful practice of many companies verifies this. Only by standing on the shoulders of giants can you see higher. It helps to gain a better vision to lead the continuous innovation of technology.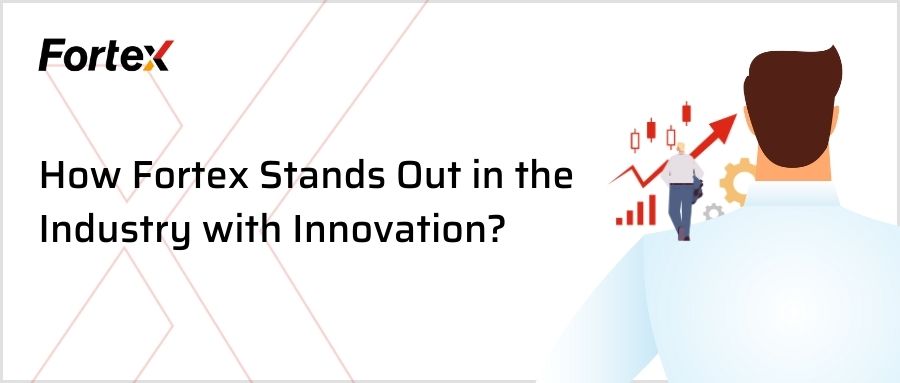 Fortex was born on Wall Street and has served many global financial giants, including banks, exchanges, and LPs. Over the past 26 years, it has grown with these large financial firms and helps small and medium-sized entrepreneurial companies to succeed. In this process, Fortex accumulated cutting-edge technology and hands-on experience and has a good understanding of the needs of companies of all sizes.
Innovation-driven through Practice
Over the past few decades, the pattern of financial transactions has changed dramatically. It evolved from open outcry transactions to sophisticated computer systems, from telegraph and telephone to computerized automated systems and other technological innovations. The development of e-trading systems has changed the landscape of financial technology. It has given rise to the power of possibilities in trading and the rise of various innovative giants.
Fortex was born out of this wave of change. In 1997, Fortex was founded in the most competitive financial environment in the United States. Fortex mastered the top technology and accumulated rich experience to become the world's leading provider of e-trading solutions.
Since then, Fortex has been active in every turnover or change in financial technology.
Forward-Thinking ECN: Leading the Way with Modern Solutions
ECN (Electronic Communication Network) is an important technology in electronic trading. Since 1969, e-trading has replaced physical exchange and ECN allows trading to take place on the Internet. Fortex is one of the first ECN solution providers.
Fortex's flagship product, the ECN trading platform, is still leading the global market with cutting-edge technology, serving many financial giants around the world. Fortex provides a trading platform and aggregation system to U.S. stock traders, futures traders, and high-frequency quantitative trading institutions and exchanges. And these institutions provided a platform for trading, aggregation, and bidding for buyers and sellers leveraging Fortex's system.
Direct Market Access
In 2008, Fortex accessed the quotes and liquidity of the world's top banks and foreign exchange market makers, including Citibank, Bank of America, Barclays Capital, Goldman Sachs, Morgan Stanley, etc. Our clients trade STP directly with banks to gain access to their deep liquidity and trade the global foreign exchange market directly. Fortex was one of the few platforms offering advanced features of the Forex trading platform at the time.
INTX Technology
Fortex's Intelligent routing technology (INTX) increased customer profitability by 60% by quickly discovering the best price and maximum liquidity among competing bank LPs, resulting in higher market share and revenue. This technology also improved faster execution, better price discovery, better liquidity, and streamlined workflow, while lowering risks and opening up new market opportunities for our clients. As a result, clients were able to trade up to $12 billion/day through the Fortex system, leading to increased trading revenue and overall profitability.
Bridge for MT3: A Step Towards Trading Success
During the 2000s, Metaquotes launched Metrader3. FX and CFD trading grew more popular. Many MT3 traders sought to access large market makers to obtain high-quality quotes, trade with them, and hedge risks. They hoped to get a solution from Fortex. Then, Fortex's first-generation bridge came out and it enabled traders to access and trade with major liquidity providers. With the bridge, clients access MetaTrader's chart analysis and trading interface. They also transmit their order flow to major banks and market makers for better liquidity, quotes, order execution quality, and risk management.
MT4/5 and CFD Products
In 2014, MT4/5 became mainstream in FX/CFD industry and we upgraded to MT4/5 Bridging. We also updated our product offerings to include CFDs on stocks, futures, and other products to meet market demand. We packed more management functions in one system, including quotes access, liquidity management and aggregation, risk management, and business intelligence analysis. Clients do not need to pay additional fees for server usage and gateway access.
The Rise of Mobile: Trading Anytime, Anywhere
In response to the growing demand for mobile trading in 2014, Fortex launched Fortex 6, a cloud-based and algorithmic trading application. Fortex 6 is designed for mobile and web-based experiences with an intuitive interface. It provides sub-millisecond speeds, direct access to interbank liquidity, and extremely thin spreads. Clients can manage their back office and trade from anywhere at any time with Fortex 6's multi-trading terminals, MT4/5 bridging, and APIs for the best trading experience.
Fortex will help more clients succeed through continuous innovation in the future. We are improving the CRM and KYC tools on our trading platform to help more institutional clients operate effectively and stand out in the market.
Fast and Strategic Moves in the Industry
The trading volume of markets exploded. Fortex quickly adapts to changes and opportunities.
We have achieved three things:
1. Supporting the market by rapidly laying out 9 major exchanges.
2. Innovating in trading products. Introducing innovative contracts for exchange rates, precious metals, commodities, stock indices, and individual stocks against world assets.
Please Leave your message to https://www.fortex.com/en/contact/
About Fortex
Founded in 1997, Fortex Technologies aims to revolutionize trading with its powerful, neutral, multi-asset trading platform focused on the FX, and equities markets. Fortex's XForce solution, ECN, MT4/5 bridges, infrastructure hosting, and more are used by regional banks, hedge funds, asset managers, broker-dealers, and professional traders around the world to enhance liquidity access, improve execution workflows and support sophisticated trading strategies.