ECNs (Electronic Trading Networks) are crucial technologies in today's e-trading landscape, providing a means to connect top traders and LPs and optimize price matching. By offering a transparent, efficient, and equitable trading environment for clients, ECNs facilitate fast execution and efficient trading.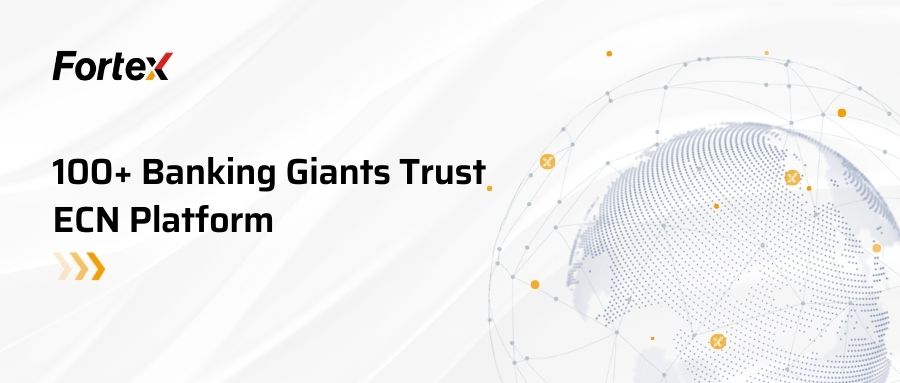 Fortex, as the world's leading ECN trading platform, has been at the forefront of the industry, empowering the success of the largest multi-asset traders and liquidity providers since its inception.
Fortex's ECN platform is the foundation of its product offerings, offering secure and reliable trading across securities, futures, and crypto. The platform connects to major banks, exchanges, liquidity providers, and LPs, providing traders with deep liquidity and competitive pricing.
1. A Witness to Innovation in ECN Trading Solutions
Since its inception in 1997, Fortex has been a pioneer in the use of ECN and one of the first providers of this service.
Fortex's expertise in ECN led to the development of STP (Straight Through Processing) and DMA (Direct Market Access). These provided strong technical support for the ECN platform. As a result, Fortex quickly became a leader in the industry.
Over the years, Fortex has witnessed the evolution of ECN and has supported assets and technologies for equities, forex, stock index futures, precious metals, and more. Fortex has also provided leading technical services for its clients.
In 2008, Fortex gained access to the quotes and liquidity of top global banks, exchanges, brokerages, and liquidity providers, including Citibank, Bank of America, Goldman Sachs, Morgan Stanley, NASDAQ, NYSE, and others. Clients now have access to deep liquidity through the Fortex ECN.
2. Leveraging Technology and Expertise for Trading Success
The rapid maturation and widespread adoption of cutting-edge technologies like algorithmic trading, high-frequency trading, data mining, STP, and API have catapulted the e-trading industry into an era of unprecedented speed. As a pioneering force in the industry, Fortex has effectively leveraged these technologies, and become an innovative leader in the industry in the field.
ECN platform benefits clients with its five core advantages
Direct connection to top liquidity providers
Fortex ECN offers clients direct access to major global money center banks, exchanges, and liquidity providers. It allows for great liquidity and better market depth. Clients obtain instant, low-cost STP orders with extremely thin spreads for the best execution price and speed.
Top-notch market depth and transparency
With Fortex ECN, clients have access to over 95% of the world's premium assets. The aggregation of liquidity providers and a large number of traders gives clients access to deep liquidity and a highly transparent market. Clients receive a complete, accurate, real-time stream of market data, which allows for better trade execution and lower costs, and enables informed trading decisions.
Advanced management features
Fortex ECN offers powerful trading functions and management features, including multiple trading tools, order management and execution, technical analysis tools, risk management, automated trading, multi-trading terminal, MT4/5 bridge, multiple interface support, and more. These features enable clients to manage their trading, improve trading efficiency and reduce risk.
Fortex has created its own powerful financial hosting server in Equinix data centers for the world's top financial institutions. The fully redundant, carrier-grade IT infrastructure provides low latency, high reliability, high stability, and high flexibility network, ensuring never-ending operation. Full redundancy combined with hot backups in Silicon Valley and a worldwide network allows data to be recovered immediately if necessary.
Fortex ECN provides leading real-time monitoring and risk management tools that accurately assess market risks. Built-in risk alerts and triggers allow authorized users to control risk thresholds and set systematic responses, providing compliant risk management with customization features.
3. The Ultimate Solution with Top-Tier Products
Fortex ECN trading platform offers a comprehensive ECN solution through its top-notch core products. Customers benefit from the following seven products.
XBook Order Engine
The powerful Fortex XBook matching engine works as an ECN, representing each trader's order in the interbank market to match with the best liquidity available. Fortex has access to several superior liquidity sources that are not available to the public market. Artificial intelligence enables Fortex STP to optimize trading decisions by locating maximum liquidity, finding price improvements, and reducing market impact.
XCloud hosting
Fortex's XCloud server grid allows liquidity providers to cross-connect through dedicated dark fiber, resulting in reduced trade time to sub-1ms and high throughput capabilities of 480-Gbps. With over 500,000 orders processed per day, XCloud provides traders with fast and reliable trading solutions.
MT4/5 Bridge
Fortex Bridge OMX is middleware that integrates the MetaTrader trading system with the Fortex platform for unifying global execution venues and aggregating segmented liquidity pools.
Fortex 6 terminal
Fortex 6 for desktop, web, and mobile trading terminals offers a beautiful and intuitive interface and a powerful system for traders. It provides sub-millisecond speed and high availability, as well as direct access to interbank liquidity and extremely thin spreads.
Fortex 5 terminal
This terminal is designed for institutional clients and is directly connected to major central banks, LPs, exchanges, hedge funds, and other liquidity providers. It allows for more efficient and lower latency trading of large orders, with immediate, low-cost straight-through (STP) order processing, resulting in lower costs and more efficient trading.
XForce trading platform
XForce e-trading platform is the world's leading multi-asset e-trading platform that is neutral and open. It provides advanced trading functions and management capabilities, including quote access, liquidity management and aggregation, risk management, and business intelligence analysis.
APIs
Hundreds of institutional clients use our FIX 4.4 API for trading. A Web API supports integration with back-office systems for reporting, data mining, and business intelligence.
Please leave your message to https://www.fortex.com/en/contact/
About Fortex
Founded in 1997, Fortex Technologies aims to revolutionize trading with its powerful, neutral, multi-asset trading platform focused on the FX, equities, and crypto markets. Fortex's XForce solution, ECN, MT4/5 bridges, infrastructure hosting, and more are used by regional banks, hedge funds, asset managers, broker-dealers, and professional traders around the world to enhance liquidity access, improve execution workflows and support sophisticated trading strategies.