We are delighted to announce that the Fortex Team will be attending the Dubai Forex Expo on September 26th, 2023. This event promises to be a hub of innovation and networking for the forex trading community, and we wouldn't want you to miss out!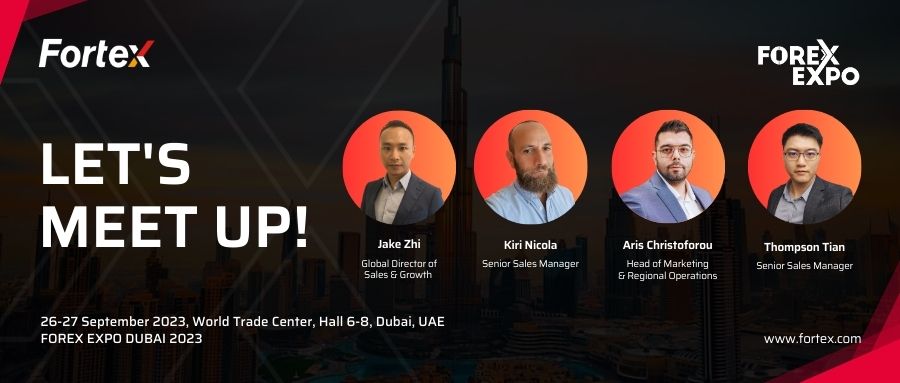 Event Details:
Date: September 26th, 2023
Location: Dubai World Trade Centre
At Fortex, we are passionate about revolutionizing the world of forex trading with cutting-edge solutions. Our team of experts will be on-site and eager to engage with you to discuss how our products can enhance your trading strategies and overall experience.
Connect with Us: Arrange a meeting with us to explore our range of solutions and gain valuable insights into optimizing your trading operations. Whether you are a seasoned trader or just starting, our offerings cater to all levels of expertise.
Our Expert Team:
Jake Zhi: Director of Global Sales and Growth
Aris Christoforou: Head of Marketing and Regional Operations
Thompson Tian: Senior Sales Manager – APAC
Kyriacos Nicolaou: Senior Sales Manager
To schedule a meeting, please send us a message via our website or reach out to [email protected]. We are excited to connect with you!
Stay tuned for updates, exciting demos, and valuable insights as we gear up for the Dubai Forex Expo. We look forward to seeing you there!
Meanwhile, iFX EXPO International 2023 is already underway, so follow along to not miss out on the key moments! Fortex's expert advisory team is actively engaging with numerous partners on-site. If you wish to learn more about our products and how they can drive success for your company, please reach out to our team members Aris Christoforou and Kiri Nicola to arrange a meeting. Come and meet us.
We bring you world-class trading solutions to deliver more surprises and help you succeed.
Please leave your message at https://www.fortex.com/en/contact/
About Fortex
Founded in 1997, Fortex Technologies has been at the forefront of revolutionizing trading experiences with its robust, neutral, multi-asset trading platform. Our platform's stellar features, including the XForce solution, ECN, MT4/5 bridges, infrastructure hosting, and more, are trusted globally by regional banks, hedge funds, asset managers, broker-dealers, and professional traders. It's time to upgrade your liquidity access, refine your execution workflows, and support sophisticated trading strategies with Fortex.