In the fast-paced world of financial markets, the role of Prime of Prime (POP) brokers is pivotal. These brokers are entrusted with the responsibility of delivering unparalleled liquidity and technical services to enable their clients to trade with the utmost efficiency.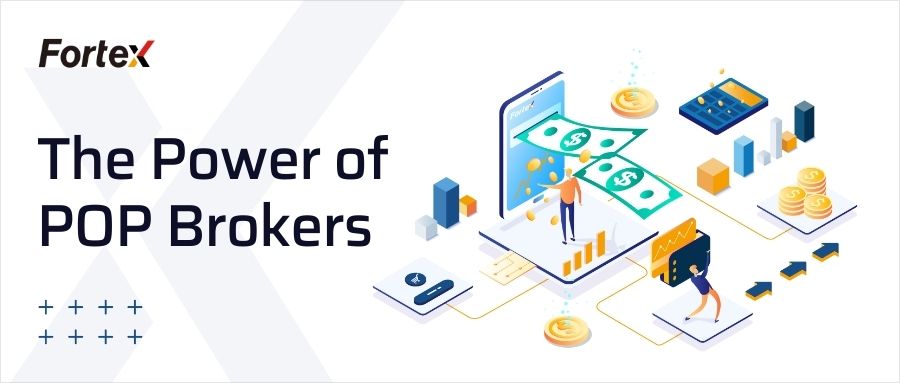 Understanding the Prime of Prime (POP) Broker Advantage 
A Prime of Prime (POP) broker is not just an intermediary; they are the gateway to a world of enhanced trading possibilities. Specialising in providing liquidity and technical support, POP brokers cater to a diverse range of entities including Forex brokers, hedge funds, and institutional clients. Their primary objective is to revolutionise trading conditions, offering improved spreads and significantly reduced trading costs to their esteemed clientele. 
The Key Role of POP Brokers 
POP brokers act as a bridge, connecting retail brokers with the liquidity provided by Tier 1 banks. These banks, known for their stringent vetting and qualification criteria, make it challenging for retail brokers to directly access their liquidity. This is where POP brokers come to the rescue. 
By maintaining an account with a Tier 1 bank, a POP broker becomes a trusted partner. Retail brokers can now access the liquidity of Tier 1 banks and seamlessly execute trades through the POP broker's account. Leveraging their solid relationship with Tier 1 banks, POP brokers empower retail brokers, enhancing their trading capabilities and providing unprecedented market access. 
Unlocking the Potential of a Superlative POP Broker 
When it comes to choosing a POP broker, several crucial criteria must be considered. A truly exceptional POP broker should excel in the following areas, ensuring a superior trading experience and minimal transaction costs for their valued clients: 
Client Trading Experience: A remarkable POP broker goes the extra mile to offer high-quality liquidity and cutting-edge trading technology services. By doing so, they empower their clients to trade efficiently, seizing every opportunity that comes their way. 
Transaction Costs: A top-tier POP broker is committed to providing clients with competitive spreads and commissions. By keeping transaction costs to a minimum, they enable their clients to maximize their profits and optimize their trading strategies. 
Trading Risk: An outstanding POP broker priorities the implementation of rigorous risk control and management mechanisms. By doing so, they protect the safety of their clients' transactions, instilling confidence and peace of mind. 
Market Stability: A truly exceptional POP broker contributes to market stability by providing high-quality liquidity, effective risk management, and rigorous compliance regulations. This creates an environment where traders can operate with confidence, knowing that their trades are supported by a robust infrastructure. 
Fortex: Your Ultimate POP Broker Solution  
At Fortex, we take pride in offering comprehensive trading technology and liquidity solutions designed exclusively for Prime of Prime (POP) brokers. Our commitment to empowering our clients is unwavering, and our solutions speak volumes: 
Cutting-Edge Trading Platforms: Fortex provides a wide range of state-of-the-art trading platforms, including ECN trading platforms and XForce trading platforms. These platforms are equipped with a plethora of advanced trading tools, multiple trading terminals, and comprehensive support for various asset classes. Our platforms are fully customizable, allowing POP brokers to align them perfectly with their unique business needs and branding style. 
Liquidity Aggregation and Distribution: Fortex's platform is engineered to aggregate prices and depths from multiple liquidity providers, including top-tier banks, ECNs, and LPs. Powered by advanced liquidity aggregation technology, our platform ensures real-time access to the best liquidity services, optimal prices, and sufficient market depths. With Fortex, POP brokers can unlock the full potential of liquidity and maximize trading opportunities. 
Risk Management: Fortex equips POP brokers with robust risk management tools to effectively monitor and manage risks. These tools include features such as risk alerts, funds management, and order monitoring. By leveraging these tools, POP brokers can ensure trading safety and compliance while mitigating potential risks. 
Technology Innovation: Fortex remains committed to continuous technological innovation, providing POP brokers with advanced, efficient, and secure trading technologies and solutions. Fortex's ongoing advancements empower POP brokers with escalated technical support and competitive advantages in the market. 
Please Leave your message to https://www.fortex.com/en/contact/ 
About Fortex 
Founded in 1997, Fortex Technologies aims to revolutionize trading with its powerful, neutral, multi-asset trading platform focused on the FX, and equities markets. Fortex's XForce solution, ECN, MT4/5 bridges, infrastructure hosting, and more are used by regional banks, hedge funds, asset managers, broker-dealers, and professional traders around the world to enhance liquidity access, improve execution workflows and support sophisticated trading strategies.