In the dynamic landscape of financial markets, foreign exchange trading has risen to paramount importance for both traders and investors alike. Among the pivotal factors influencing trading decisions, speed of execution has taken center stage, particularly in the context of choosing optimal forex trading platforms and technologies.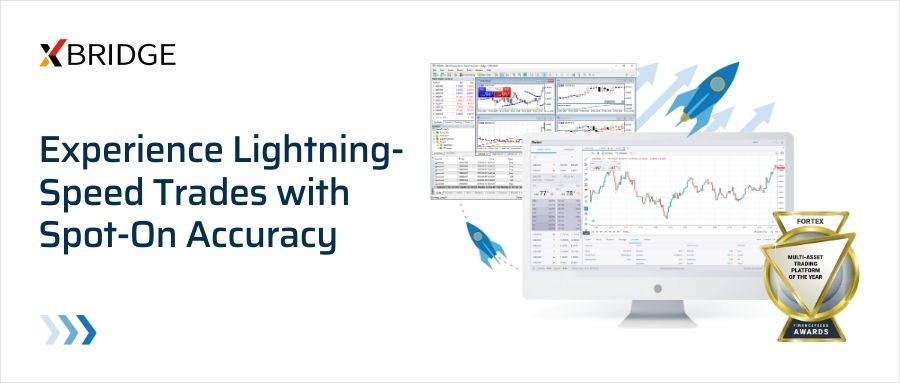 Fortex, a trailblazer in forex and multi-asset trading technology, has been at the forefront of MT4/5 bridge technology, providing bridging solutions since the inception of MT3 by MetaQuotes. With a dominant presence in the industry, this article delves deep into the realm of trade execution speed within MT4/5 bridge technology, unraveling its profound significance and far-reaching impact. 2535
Velocity of Trade Execution in MT4/5 Bridge Technology 
MT4/5 stands as an indisputably pervasive trading platform in the world of forex. Serving as the conduit between a trader's forex platform and a liquidity provider's trading system, this technology presents a seamless gateway to engage in forex trading and conduct comprehensive market analyses. By virtue of this bridging mechanism, traders gain access to enhanced liquidity, a diverse array of trading tools, and expanded trading options. 
Advantages of High-Speed Trade Execution via MT4/5 Bridge Technology 
Amplified Trade Execution:

Assures that orders are executed at the trader's specified prices, mitigating slippage and augmenting trading precision and reliability.

 

Mitigated Latency Risk:

Given the swift oscillations in market prices, rapid trade execution curtails the risk of missing trading prospects due to latency.

 

Enhanced Trader Experience:

Facilitates swift market entries and exits, bolstering trader contentment and instilling heightened confidence in the trading platform.

 
The Fortex MT4/5 Bridge Technology Advancement 
As a trailblazing exponent of bridge technology, Fortex's MT4/5 bridge technology confers an ensemble of advantages that synergistically elevate the quality of trade execution, its dependability, and the overarching trading experience. 
Instantaneous Execution:

Fortex has harnessed swift trade execution via streamlined technological architecture and network connectivity, ensuring immediate fulfillment of trader orders.

 

Robust Stability:

Fortified by robust stability measures, the technology curtails the potential for system crashes and disruptions, thereby preserving the integrity of traders' trading endeavors.

 

Sophisticated Liquidity Provider Connections:

Fortex has fostered close alliances with a selection of top-tier liquidity providers, warranting traders' access to top-notch liquidity and competitive pricing.

 

Risk Management Proficiency:

Comprehensive risk management tools are proffered to adeptly oversee and regulate trading risks, thereby optimizing trading strategies.

 

Real-Time Market Data Accessibility:

This encompasses real-time pricing, order books, and trading history, furnishing traders with the insight needed for informed trading choices.

 

Vigorous Analytical Tools:

A plethora of technical indicators and chart patterns are at traders' disposal for astute technical analysis, facilitating prudent trading judgments.

 

Straight-Through Processing (STP):

Eliminating the necessity for intermediary intervention, STP ensures accelerated execution speeds and an improved trading environment.

 
The paramount significance of trade speed in forex trading is undebatable, especially in the context of MT4/5 bridge technology. Fortex, dedicated to optimizing technology and network connectivity, is resolute in delivering swift, stable, and high-caliber trade execution, thereby enhancing traders' trading journeys and positioning them at the vanguard of the competitive market arena. 
Learn more at: Unleashing the Power of Fortex's MT4/5 Bridge 
Please leave your message to https://www.fortex.com/en/contact/ 
About Fortex
Founded in 1997, Fortex Technologies has been at the forefront of revolutionizing trading experiences with its robust, neutral, multi-asset trading platform. Our platform's stellar features, including the XForce solution, ECN, MT4/5 bridges, infrastructure hosting, and more, are trusted globally by regional banks, hedge funds, asset managers, broker-dealers, and professional traders. It's time to upgrade your liquidity access, refine your execution workflows, and support sophisticated trading strategies with Fortex.