Most trading platform companies offer only one solution, which limits options and fails to meet the diverse needs of businesses. Fortex XForce has introduced an all-in-one multi-asset trading platform that provides services comparable to MetaQuotes trading platforms and MT4/5 bridge services, in addition to a suite of features that make it a leading and cost-effective solution.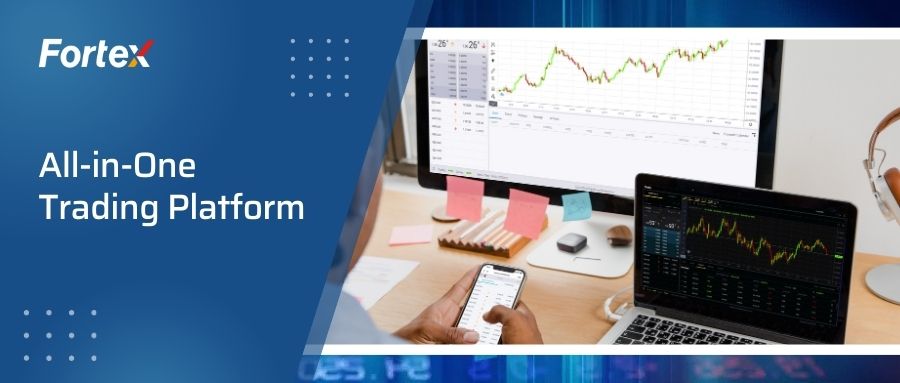 By simplifying and streamlining trading management, XForce enhances efficiency and delivers an exceptional trading experience to clients. With Fortex XForce, businesses can access a robust, all-in-one platform that caters to their specific needs and maximizes profits.
Advanced Back Office
Fortex XForce automates a range of middle and back-office brokerage operations, including:
CRM and KYC Module
IB Portal
Fund Manager PAMM
Compliance and Reporting
Liquidity Sourcing and Distribution
Clearing and Settlement
Quote Maker
Risk & Order Management
MT4/5 Bridges
Technical analysis tools (charts, indicators, and alerts)
Support for multiple trading platforms and interfaces (web, mobile apps and APIs)
Discover All the Ways to Trade
Fortex 5 Desktop Terminal
Fortex 6 Trader (iOS & Android)
Browser Trader
Fortex Trader for MT4/5
FIX API 4.4
WebSockets and RESTFul API
A Turnkey Solution
Fully Branded Desktop Terminal
Fully Branded Web Trader(PC & Mobile Web Browser)
Fully Branded Mobile Trader ( iOS & Android )
Account Management System
3-Tiered Margin System
Backoffice with Multi-asset Support
Liquidity Aggregator
Risk Management System
Gateway to Liquidity Providers
Multi-asset Price Feeds
Bridges & Web/Mobile Traders to MetaTrader 4/5
Server and Infrastructure Hosting
APIs
Please Leave your message to https://www.fortex.com/en/contact/
About Fortex
Founded in 1997, Fortex Technologies aims to revolutionize trading with its powerful, neutral, multi-asset trading platform focused on the FX, and equities markets. Fortex's XForce solution, ECN, MT4/5 bridges, infrastructure hosting, and more are used by regional banks, hedge funds, asset managers, broker-dealers, and professional traders around the world to enhance liquidity access, improve execution workflows and support sophisticated trading strategies.