In the fast-paced finance world, Fortex's XAggregator is a transformative SaaS platform for financial institutions. It unites markets, streamlines trading, and enhances efficiency with features like a price maker, risk management, reporting tools, FIX Servers, and an MT4/5 bridge. Explore XAggregator's capabilities for your institution today.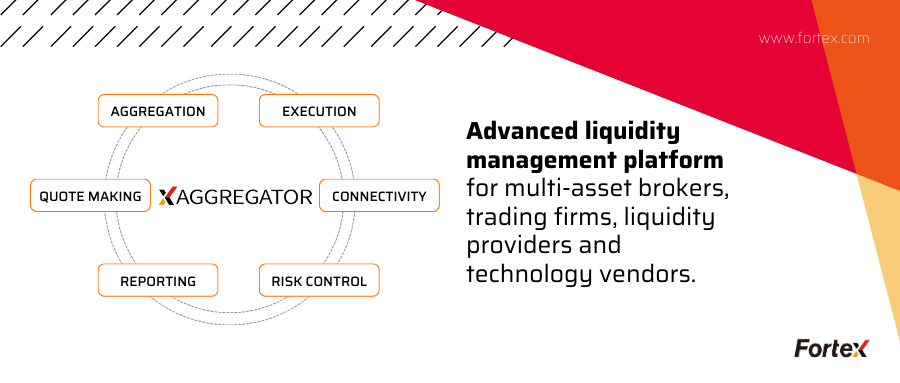 Understanding Liquidity Aggregation
At the heart of XAggregator's success is its unique ability to aggregate liquidity. But what exactly is liquidity aggregation?
Liquidity Aggregation: In the financial world, liquidity refers to the ease with which an asset can be bought or sold without causing a significant price change. Liquidity aggregation is the process of combining liquidity from multiple sources, such as banks, ECNs, and exchanges, into a single pool. This consolidated liquidity pool offers traders a broader and deeper market, ensuring they can execute orders with minimal slippage and competitive spreads.
In the context of Fortex XAggregator, this liquidity aggregation capability means that your institution can access a vast network of over 200 liquidity sources, providing unparalleled trading opportunities and reducing the costs associated with fragmented liquidity.
XAggregator Features: Paving the Way to Financial Excellence 
Multi-Asset Classes:

XAggregator is your all-in-one solution. It supports a wide range of asset classes, including FX, CFDs, Metals, Indexes, Commodities, Equities, NDFs, and Futures. No matter your trading needs, XAggregator has you covered.

 

Comprehensive Liquidity Access:

Break free from limitations. This platform unites over 200 liquidity sources, including top tier banks, ECNs, and exchanges, offering you a world of trading possibilities that were once out of reach.

 
Liquidity Offering Versatility:

Empower your institution with FIX API and bridge interfaces that cater to diverse client needs. Adaptability is the name of the game, and XAggregator excels at it.

 

Cutting-Edge Trading Interface:

For professionals and institutions, XAggregator offers an advanced trading interface. It's equipped with real-time tracking, customizable layouts, and a suite of advanced tools, empowering you to make the most out of your trades.

 

Real-Time Monitoring and Analysis:

XAggregator's real-time monitoring and interactive dashboards empower you to stay in control, manage risk, and optimize your trading strategies. It's time to make data-driven decisions.

 

Tailored Execution Models:

Choose from flexible execution models such as a-book, b-book, and tailored options. Customize settings to align perfectly with your institution's unique trading strategies.

 

Managed Hosting:

Achieve peak trading performance in our Equinix-hosted environment. With LP cross-connects, ultra-low latency, and a robust IT infrastructure, you'll experience a level of efficiency that sets you apart.

 
MetaTrader 4/5 Integration:

Seamlessly integrate with MetaTrader via MT4 Bridge and MT5 Gateway for superior throughput. Harness the power of these platforms in harmony with XAggregator.

 

Advanced Routing Rules:

Fine-tune your trading experience by tailoring routing rules and markup profiles to meet your unique client needs, symbol traits, and market conditions.

 

Optimized Spreads and Execution:

Prepare for exceptional spreads and precise execution thanks to our multi-tiered bid/offer aggregation. Trust in a new standard of trading confidence.

 

Comprehensive Risk Management:

Safeguard your assets with advanced tools like individual exposure limits, smart risk handling, and external LP interactions. Your institution's security is paramount.

 

Seamless Execution Mode Switching:

XAggregator enables seamless execution mode transitions with real-time adjustments, ensuring uninterrupted trade flow management.

 
XAggregator Ecosystem: A Unifying Force in Finance 
The XAggregator Ecosystem isn't just a platform; it's the bridge that unites Banks, ECNs, and Liquidity Providers. Through its elevated liquidity aggregation capabilities and streamlined operations, it creates a world of limitless trading possibilities. It's time for your financial institution to be part of this groundbreaking community. 
Fortex XAggregator is the key to transforming your financial institution into a trading powerhouse. With its unparalleled features and comprehensive support for asset classes, you'll have the edge you need to succeed. Contact us today to join the XAggregator Ecosystem and start your journey to financial excellence. Your success story begins here. 
Contact us here
About Fortex
Founded in 1997, Fortex Technologies has been at the forefront of revolutionizing trading experiences with its robust, neutral, multi-asset trading platform. Our platform's stellar features, including the XForce solution, ECN, MT4/5 bridges, infrastructure hosting, and more, are trusted globally by regional banks, hedge funds, asset managers, broker-dealers, and professional traders. It's time to upgrade your liquidity access, refine your execution workflows, and support sophisticated trading strategies with Fortex.