Fortex, a pioneering name in financial technology, is thrilled to announce a slew of exciting enhancements to its highly acclaimed XFORCE trading platform. These updates are aimed at empowering traders, providing them with an even more robust and user-friendly experience.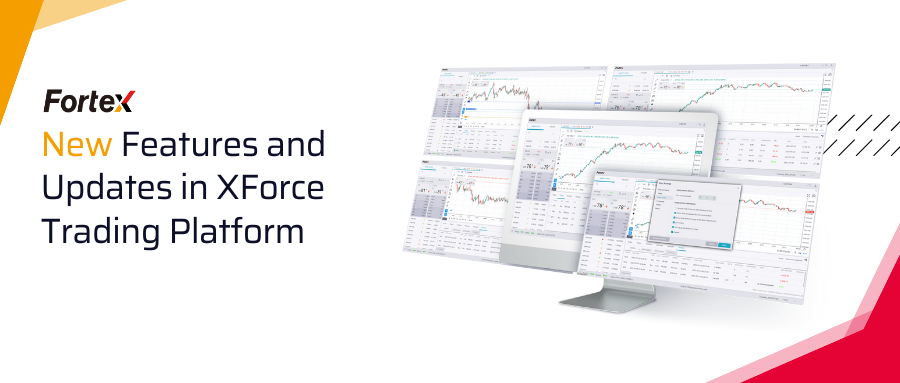 Here's a rundown of the latest features and improvements incorporated into the XFORCE platform: 
Show Ask Price Line: To enhance real-time insights for traders, Fortex has introduced the "Ask Price Line" feature. This addition furnishes traders with essential pricing information, equipping them to make well-informed decisions within the dynamic world of trading. 
Show Instrument Details: Traders can now access comprehensive instrument details directly from the XFORCE platform. This feature streamlines the trading process by providing users with in-depth insights into the instruments they're trading, thereby facilitating more informed decisions. 
Improved Language UI: Fortex has diligently addressed language-related issues within the platform's user interface based on user feedback. This update elevates the overall user experience, making the platform accessible to a global audience, irrespective of their language preferences. 
Intuitive Search for Instruments on Market Watch: The Market Watch section now boasts an intuitive search function. This enhancement simplifies the process of locating specific trading instruments. Traders can swiftly find the assets they are interested in, even when there are slight spelling variations or typos in their search queries. 
Quick Chart Access: Elevating the charting experience, the platform now includes a user-friendly button in the ticket section. This button allows traders to seamlessly navigate to the corresponding chart, simplifying the analysis process and expediting decision-making. 
Extended History Search: Fortex acknowledges the significance of historical data in traders' analysis and decision-making. In response, the platform now permits users to search and display historical data spanning more than one month, providing a comprehensive view of market trends and patterns. 
Broker's Contact Email: Fortex recognizes the importance of direct communication with its users. As a novel feature, traders can now effortlessly access the broker's contact email within the platform, streamlining communication and facilitating prompt support for their trading needs. 
These enhancements underscore Fortex's unwavering commitment to continually improving the XFORCE trading platform, ensuring it meets the evolving needs of traders in the financial markets. 
"Our primary goal is to provide our clients with the best trading experience possible," said Aris Christoforou, spokesperson for Fortex. "These new features and updates in XFORCE are a testament to our dedication to innovation, ensuring that our platform remains at the forefront of the industry." 
Fortex's XFORCE platform is renowned for its reliability, speed, and advanced tools, making it the platform of choice for traders worldwide. 
Traders and investors can experience these new features and updates on the XFORCE platform by logging into their accounts. 
Please leave your message at https://www.fortex.com/en/contact/ 
About Fortex
Founded in 1997, Fortex Technologies has been at the forefront of revolutionizing trading experiences with its robust, neutral, multi-asset trading platform. Our platform's stellar features, including the XForce solution, ECN, MT4/5 bridges, infrastructure hosting, and more, are trusted globally by regional banks, hedge funds, asset managers, broker-dealers, and professional traders. It's time to upgrade your liquidity access, refine your execution workflows, and support sophisticated trading strategies with Fortex.