E-trading technology is an essential technology that drives change in the financial industry. It is the core driver for the continuous development of the financial industry.
The e-trading platform is the carrier of e-trading technology. Today we talk about the multi-asset e-trading platform.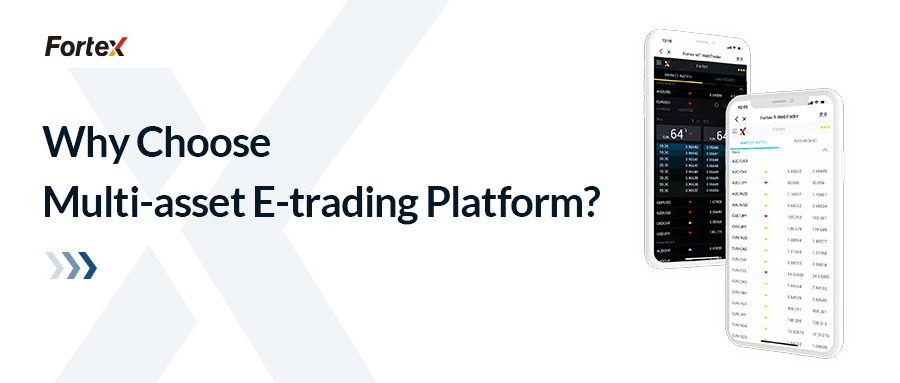 What is an E-trading Platform?
E-trading refers to the use of computer technology to bring buyers and sellers together in a virtual marketplace to trade, instead of on a trading floor.
An electronic trading platform, also known as an online trading platform, is a computer software program that can be used to place orders for financial products over a network with a financial institution. Various financial products can be traded by the trading platform, over an electronic communications network (ECN) that automatically matches buy and sell orders at specified prices.
This includes products such as stocks, bonds, currencies, commodities, derivatives and others, with financial institutions, such as brokers, market makers, investment banks or stock exchanges. Such platforms allow e-trading to be carried out by users from any location. It eliminates the limitations of location and allows for a larger transaction volume and more assets.
History of E-trading
The first electronic communication network, or ECN, was founded.
1971.2 First electronic stock market opens
The National Association of Securities Dealers opens the NASDAQ, the world's first electronic stock market. The system reduces the cost of trading.
1982.2 Future on stock indexes launch
The U.S. Commodities Futures Trading Commission approves the first futures contract based on a stock index.
1998.12 SEC approves electronic trading systems
2017.1 NYSE opens floor to competitors
Multi-asset E-trading Platform
With the development of the industry, the multi-asset e-trading platform gradually becomes the mainstream trading platform in the financial field.
Fortex XForce e-trading platform has gained a high reputation from institutional clients in the industry for its technology accumulation and practical experience in the field.
See how do we bring value:
1. Access to Prime Liquidity
Fortex's institutional clients have access to the liquidity and depth of 500+ global financial giants of their choice, including the world's top banks, exchanges, brokers, liquidity providers, custodians and more. We support access to 10,000+ assets, including equities, futures, FX, metals, energy, commodities and crypto assets.
2. Advanced Backoffice
The Fortex XForce platform helps broker-dealers with a range of middle and back office management functions, including:
CRM and KYC Module
IB Portal
Fund Manager PAMM
Reporting
Liquidity Sourcing and Distribution
Clearing and Settlement Technology
Quote Maker
Risk & Order Management
MT4/5 Bridging

Please Leave your message to https://www.fortex.com/en/contact/
About Fortex
Founded in 1997, Fortex Technologies aims to revolutionize trading with its powerful, neutral, multi-asset trading platform focused on the FX, equities, and crypto markets. Fortex's XForce solution, ECN, MT4/5 bridges, infrastructure hosting, and more are used by regional banks, hedge funds, asset managers, broker-dealers, and professional traders around the world to enhance liquidity access, improve execution workflows and support sophisticated trading strategies.