In today's highly competitive financial markets, choosing a trading platform that offers advanced charting features and cutting-edge technical analysis tools is crucial. These tools not only enhance traders' chances of success but also aid in better understanding market dynamics.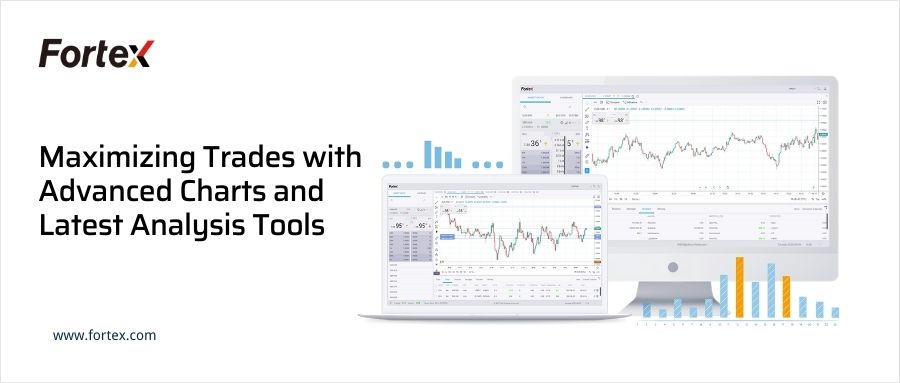 Fortex, as a leading financial technology provider, offers outstanding charting features and technical analysis tools. This article will delve into the significance of these tools.   
The Importance of Advanced Charting Features and Technical Analysis Tools 
Enhancing Decision Quality: A trading platform equipped with advanced charting features and technical analysis tools helps traders better comprehend market trends and price movements, enabling them to make informed trading decisions. 
Increasing Trading Success Odds: It assists traders in identifying potential market opportunities by uncovering support and resistance levels, trendlines, and other critical information, aiding in the formulation of effective trading strategies. 
Advantages of Fortex's Charting Features and Technical Analysis Tools 
Advanced Charting Tools: Fortex's trading platform offers a variety of advanced charting tools, including different chart types, technical indicators, and drawing tools, catering to various traders' needs. 
Real-Time Data: Fortex's charting features provide real-time market data, ensuring traders stay updated with the latest market dynamics. 
Customizability: Fortex's charting tools can be customized to individual traders' needs, meeting different trading strategies and risk preferences. 
Mobile App Support: Accessible through a mobile app, enabling traders to trade and analyze the market anytime, anywhere. 
Security and Reliability: Providing traders with a secure trading environment, ensuring the safety of your data and funds.  
Fortex, as a leading trading technology provider offering high-quality charting and technical analysis tools, provides traders with an exceptional trading experience. By choosing Fortex as their trading platform, traders can fully leverage these tools, enhancing their trading skills and success prospects while maintaining the security of your data and funds. 
Please leave your message at https://www.fortex.com/en/contact/ 
About Fortex
Founded in 1997, Fortex Technologies has been at the forefront of revolutionizing trading experiences with its robust, neutral, multi-asset trading platform. Our platform's stellar features, including the XForce solution, ECN, MT4/5 bridges, infrastructure hosting, and more, are trusted globally by regional banks, hedge funds, asset managers, broker-dealers, and professional traders. It's time to upgrade your liquidity access, refine your execution workflows, and support sophisticated trading strategies with Fortex.