Fortex is the leading FX trading platform with $12 billion in currency trades and 500,000 tickets a day for traders around the world. Founded in 1997, Fortex continues to revolutionize trading as the industry's only neutral multi-asset trading platform for the equities, options, futures, and foreign exchange markets. With direct, real-time access to electronic exchanges, Fortex is used by broker dealers, market makers, floor traders, mutual funds, banks, hedge funds, and professional investors around the world to accelerate trade execution and support sophisticated trading strategies.
Experience Fortex technology and paper trade with a free demo account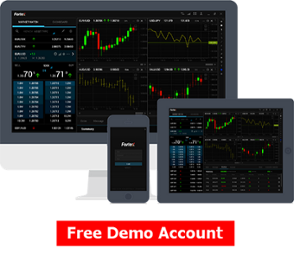 The Fortex 6 app brings FX trading power and market depth directly to individual traders. With it, you get sub-millisecond speed and high availability combined with direct access to deep interbank liquidity and razor-thin spreads. The intuitive Fortex 6 interface is designed to optimize desktop, web-based, and mobile trading. And it's algo-ready. The AlgoX algorithmic trading engine lets you script your own automated trading strategies. Fortex 6 closes the loop between traders and markets—giving you superior end-to-end performance through the proven Fortex platform.
Get the Fortex's MT4 WebTrader Demo
With Fortex's MT4 WebTrader, you get direct access to your MetaTrader 4 accounts from any desktop web browser or from a mobile device. Featuring a user-friendly interface and 100% streaming connectivity, there's no need to install any software (or use bridges) or worry about access restrictions imposed by corporate firewalls. You get a quick, responsive platform to trade currency and have real-time access to quotes, news, account history, and more with outstanding speed and reliability.
More information about Fortex, Fortex 6 and MT4 WebTrader can be found at https://www.fortex.com.